Push pads that actually work. Are you ready?
Absorbent and pink and porous is he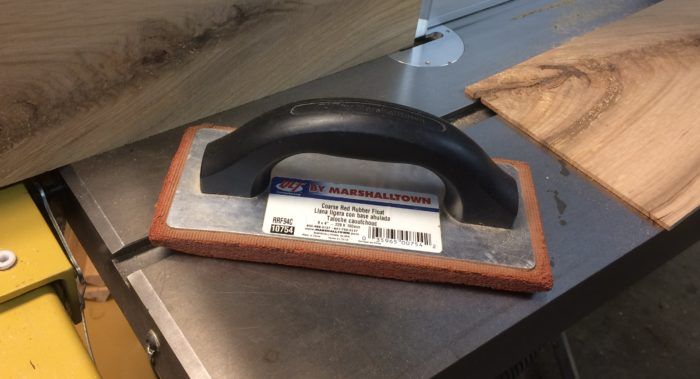 While searching for what to write about this week, I also needed to resaw a nice piece of flame crotch Northern Red Oak—which is when my quest was answered: push pads.
Now there are tons of little push pads on the market, and they all work to varying degrees (or not). The pads that come with new tools, say a jointer, typically have a thin layer of some kind of not-so-sticky rubber-like stuff that either stops holding the instant sawdust contacts it or simply starts peeling away from the plastic grip on the second day you use them. These pads are relatively tiny, and I always feel like my hands are entirely too close to the blade or cutter when I'm using them.
A few years ago, a friend turned me on to the ultimate push pad: a foam grout float, and not just any grout float, but the red foam style. My favorites are made by Marshalltown. The trowels measure 4 in. x 9 in. and have about 9/16 in. of foam that tells sawdust to get lost and sticks to wood like June bugs on a July windshield. A large handle mounted to an aluminum base means that your hands are far from the cutting edge, giving you great control and safety . And they cost about six bucks.
One of the great things about these floats is that you can use them to hold small parts safely while the blade or cutter gnaws a groove in the foam. I often hold small, fragile pieces down on the tablesaw or up against a router fence where I know I'll likely contact the blade or cutter with the foam, but I have the upper hand—literally.
So the next time you're at the hardware store grab a pair, or a half dozen. They make it easier to stick to your task.