ARK Shark Guard from Leeway Workshop
A riving knife for old cabinet saws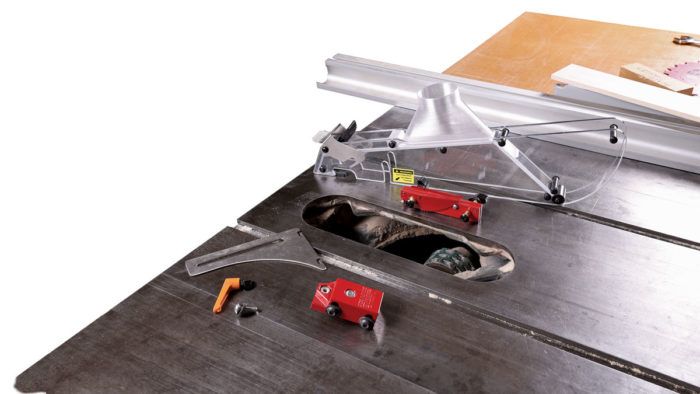 I have a 1969 Delta Unisaw, and I use it all the time. It runs smoothly, cuts well, and has a great rip fence (the Unifence). I love it, but I've been saving up to replace it for several years. Why? Safety. When I bought it, the saw did not have a splitter and blade guard. At first I made do with shopmade splitters and then a Beisemeyer splitter. But even a good splitter can't compete with a riving knife.
A riving knife follow's the blade's movement, tilting when it tilts, and changing height along with the blade. It is never more than a fraction of an inch away from the blade, which is why a riving knife is so effective at preventing kickback.
I'm happy to report that I can put off that new saw for a bit, because I just installed the ARK Shark Guard from Leeway Workshop. "ARK" stands for adjustable riving knife. Technically, it's a splitter, but effectively, it's a riving knife because you can adjust the height to follow the blade's height. A quick turn of a ratchet handle loosens the knife so you can move it up or down. It takes less than 30 seconds. A great benefit of the adjustable height is that you can lower it to be under the blade's crown and leave it in place for non-through cuts.
The ARK Shark Guard comes with a fantastic blade guard. It's clear, so you can keep an eye on the workpiece as you cut, and it moves easily up and over the workpiece as it's fed through the blade. There is a dust port on top of the guard that is available in several sizes to accommodate different hose diameters.
Installation requires installing a new bracket to the saw's trunnions, but this was not difficult and took me less than 10 minutes. I was able to align the riving knife to the blade in about the same amount of time. To remove the knife completely, you must remove the ratchet handle and a second bolt. For most folks, this won't be an issue, but if you ever use a blade thinner than a thin-kerf blade (I use a 71⁄4-in. circular-saw blade when making kumiko), it can be a hassle.
The ARK Shark Guard fits many older Delta Unisaws, some older Grizzly cabinet saws, and other saws that are clones of the Unisaw. It's a great replacement for the factory splitter and blade guard, and a vast safety improvement over nothing at all.
Issue #263 Sep/Oct 2017