A Workshop of Our Own
"We need more women who are practicing furniture makers. We need to cultivate a diversity of voices in our field." -WOO Founder, Sarah Marriage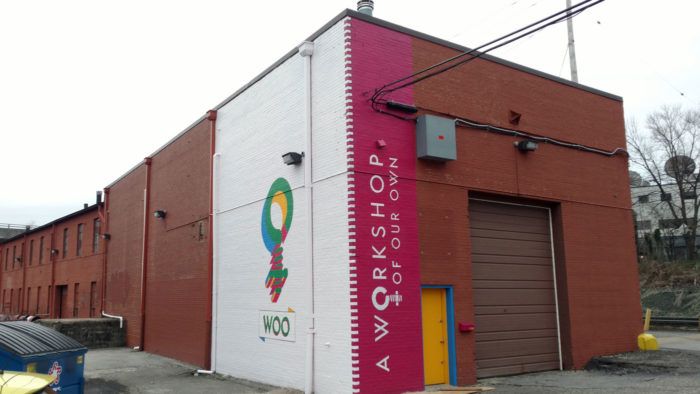 When I studied woodworking at the Center for Furniture Craftsmanship (CFC) I was the only woman in my class. I knew this ahead of time and at first I didn't really think much of it. However, when I told people—men and women alike—I would often hear comments like "Oh that sounds difficult" or even "I'm sorry." I was surprised at this, and even more surprised that several women told me "I couldn't do that" and "I am so impressed."
By the time I arrived in Maine I was feeling a bit nervous about the gender imbalance in the classroom. There was no need for worry. I loved my experience there and my class was full of (and taught by) great, generous, and openhearted men who treated me with respect and as if I was "one of them." But the intimidation I felt walking into that room on the first day was real. And although I was welcomed by my classmates and instructors, I struggled with vague feelings of inadequacy for some time, and always felt I had to work extra hard to prove that I belonged. To a great degree, in the world of woodworking, I still do.
Before studying at the CFC, I took a weekend class in upstate New York at Hammerstone School, a small school that teaches carpentry skills to women. Incidentally, I chose this school because it was in a convenient location for me, not because I was seeking out a women-only learning environment. However, most of the women in the class sought it out specifically for this reason, some traveling great distances to experience learning woodworking from women, alongside women. That weekend I met a diverse group of people, and left feeling inspired, motivated, and part of something that felt new, exciting, and empowering.
Recently, my friend Sarah Marriage has founded A Workshop of Our Own (WOO), a project that has similar goals to that of Hammerstone. WOO is a Baltimore-based professional woodshop and educational space that is a champion for women and gender-nonconforming furniture makers. From Sarah: "We need more women who are practicing furniture makers. We need to cultivate a diversity of voices in our field. And we need to willfully create dedicated workshops to support and champion these voices." From my experience, I know these needs are real.
While we may be far away from the days in which young girls were barred from enrolling in shop class, it seems that we are not yet to the point where young girls feel encouraged, comfortable, and confident to join workshops and classrooms. This alone is enough to turn away would-be woodworkers, and this is how projects like A Workshop of Our Own can make a difference. Consider your daughters, sisters, and mothers—would any of them feel intimidated to enter a workshop filled with all men?  By eliminating the distracting, burdensome anxiety of "I have to prove myself," WOO lets us focus on what is important: building skills, forming community, and contributing to the field of woodworking. If you would like to support their efforts, visit A Workshop of Our Own.