Clever Wooden Clamps
Two simple, time-tested clamps hold complex parts for shaping and joinery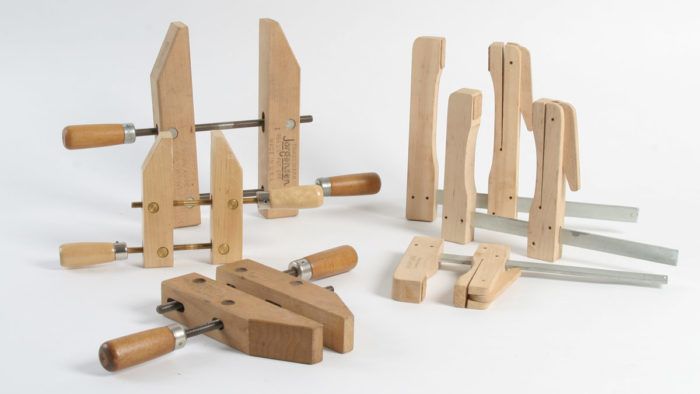 Synopsis: Whether you need to hold an oddly shaped part for handwork or you are looking for a safer way to hold a small part for machine work, wooden hand screws and cam clamps are invaluable. Their flat-sided jaws make it easy to clamp them to other surfaces, in a vise, or on a benchtop. Tim Coleman offers a plethora of uses and tips for these versatile workbench helpers. For detailed photographs and extra tips and tricks on using wooden clamps, check out the full article in the PDF below.
I find myself continually reaching for a couple of ordinary clamps to address many unusual holding needs. Whenever I need to hold an odd-shaped part and can't justify the time to make a dedicated jig, these two simple, versatile tools, the wooden hand-screw clamp and the wooden cam clamp, are invaluable.
My favorite hand-screw clamp has jaws 12 in. long that open almost 9 in. I often use it on my workbench, clamped between the bench-dogs or in the tail vise or shoulder vise. It's especially helpful for holding a part above the bench surface to give more hand clearance when I'm carving or using a spokeshave. The hand screw's jaws can be angled to each other, so it can easily grip many tapered objects that bench-dogs couldn't handle. Because the jaws are wood, they're more friendly to an errant carving tool or router bit. The heft of the hand screw and the flat faces of its jaws provide stability on the bench.
Cam clamps don't have huge holding power, but they are light, slender, and very easy and quick to use. Like hand screws, they have flat-sided jaws that make it easy to clamp them to other surfaces; because the cam clamp's jaws are thinner, they can be useful in situations where hand screws are too big. And because the cam clamp's jaws are made of wood, it's possible to modify them or tack other parts onto them for some operations.
Both hand screws and cam clamps are great at the workbench, but they are just as useful and versatile for machine work. I'll use them to hold a part still for joinery or shaping, or as a kind of carriage to hold a part while I slide the clamp along the machine table to make a cut. Finding elegant solutions to tricky problems is the part of furniture making that makes me most satisfied.
For the full article, including photographs and tips and tricks for making the most of wooden clamps, download the PDF below:
View PDF