Stow-and-Go Sharpening Box
Simple project works as a sharpening station and storage box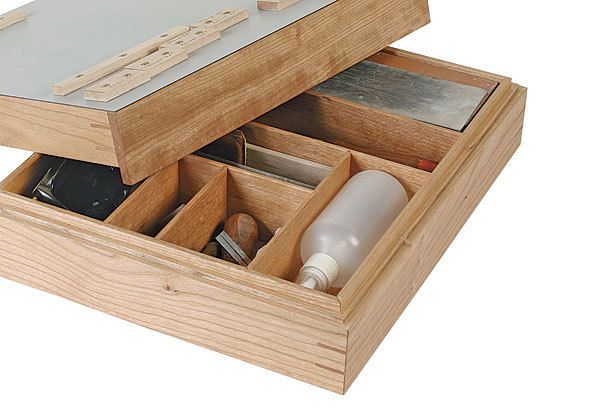 Synopsis: This mitered sharpening box has dividers for storing all your sharpening gear in dedicated spaces, and a laminated lid with cleats to hold sharpening stones and set up honing guides perfectly each time. Bob Van Dyke customized his box for the tools he uses regularly, and you can do the same for your own. Not sure what sharpening equipment you need? Also included is a basic sharpening kit that Van Dyke recommends to his woodworking students.
A few years ago while giving a sharpening demonstration, I realized how disorganized my sharpening equipment was: stones, honing guides and their projection jigs, and water sprayer in different corners of the shop. Getting it all in one place took forever. My solution was to build this box to keep it all together and give me a solid surface for sharpening. The simple splined and mitered case has a laminated top with cleats…
Start your 14-day FREE trial to continue reading this story.