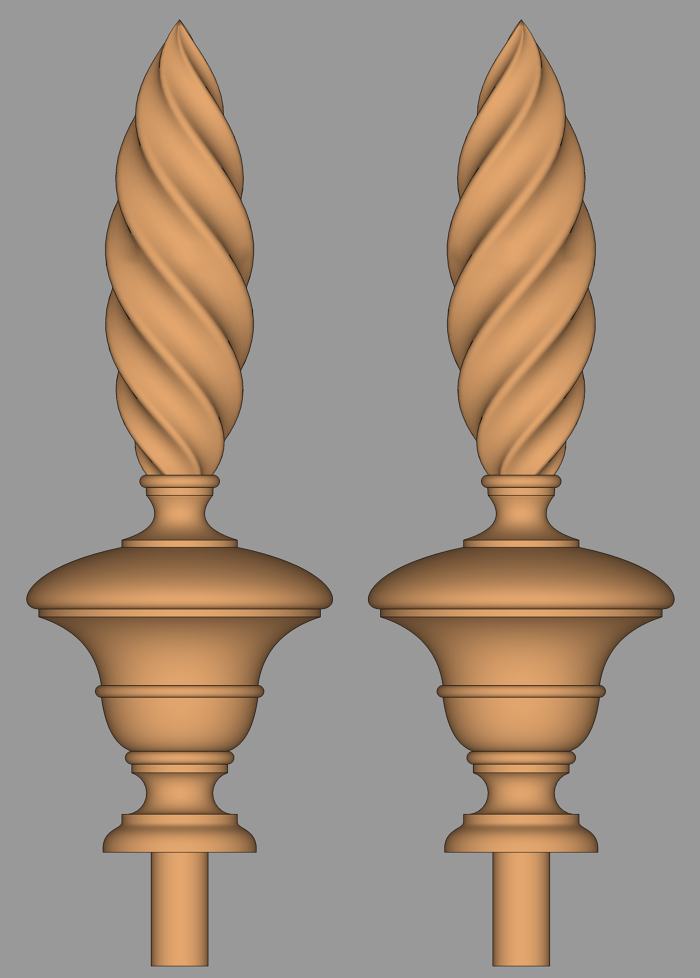 Over the last few weeks I've had several requests for a list of extensions and plugins I find useful for woodworking-related drawings. I did one of these lists a long time ago but things have changed and it's time for an update. 
Extensions and plugins are optional tools you can install in SketchUp to add functionality or reduce the work it takes to do some tasks. You might think of them as the power tools for the SketchUp shop. Some of these tools make it easier to draw some things while others give you additional tools for modifying what you've drawn. There are also tools to help you do things with the model once you've got it drawn. Going further here, I'm going to refer to them all as extensions. 
There are three main ways to install extensions into SketchUp: 
1. Use Install Extension from Preferences>Extensions. Preferences are found under the Window Menu on PC and under the SketchUp menu (to the left of File) on the Mac. This is used when you download the file to your computer directly. The file has to have the extension .rbz to be recognized be SketchUp for installation this way.
2. The Extension Warehouse. (EW) This is a large repository of extensions. It can be accessed through your web browser by going to SketchUp.com but it is better to access it through SketchUp directly. Go to the Window menu and find Extension Warehouse. You can search for extensions and automatically install them. The Extension Warehouse also has tools to quickly check to see if there are updates available for extensions you may have already installed using it. Note: this is a large collection but it is not comprehensive. 
3. The Sketchucation ExtensionStore. (SCF) This is another large library of extensions. As with the Extension Warehouse, you can access it through your web browser or better by using the ExtensionnStore Extension which is available here. It also installs extensions automatically and has tools for managing the ones you've installed. It'll let you quickly check for updates and when it opens, the most recently added or updated extensions will be shown first. You can also manage which extensions load when SketchUp starts and temporarily load ones you might need for certain jobs but don't need all the time. The ExtensionStore extension also lets you create bundles of extensions. If you are using SketchUp on multiple computers, you might want to install the same set of extensions on each. You can create a bundle of extensions on one and load it on the other. When it installs the bundle, it downloads and installs the current version of the extensions available in the Sketchucation PluginStore.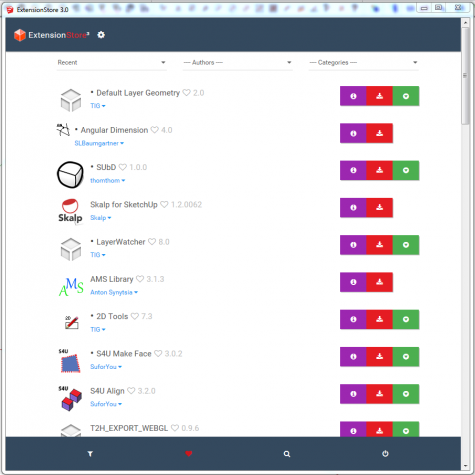 Although the Sketchucation tool is now called the ExtensionStore, the links to it from the Sketchucation Website show it as the "PluginStore".
There are a few things to know about installing extensions. If you are upgrading from an older version of SketchUp, do not copy the contents of the old Plugins folder to the new installation. There are often changes to the Ruby API that make old versions of extensions non-functional. Download fresh copies of extensions when you are setting up a new version. I know it sounds like a lot of work but it's less work and less frustration than chasing down problems created by installing the old copies. 
Don't be a pack rat. There are hundreds of extensions available for SketchUp but you probably don't need very many of them. The larger your collection of extensions, the longer it will take SketchUp to load. 
Now to the list. 
Sketchucation's ExtensionStore/PluginStore. This should be first because it makes adding many of the other extensions so simple. Get it at Sketchucation (SCF). 
TIG-Weld (SCF) This is one of the "go to" extensions in my list. It joins a selection of connected edges into a single "curve" I use this one so frequently, I set up a keyboard shortcut for it. 
Bezier Spline (SCF) Useful for drawing a wide variety of non-circular arcs and curves. There's a toolbar for this one or you can access the tools via the Draw menu. 
Round Corner (SCF) This one makes quick work of rounding over edges. It also draws beveled edges. This one, like many of Fredo's extensions depends upon having an additional set of files called LibFredo6 installed. It's also available the Plugin Store. 
Wudworx set. This is a great set of tools. I mostly use the Dovetail and Drill tools but there's also a tool for creating mortise and tenon joints. While it isn't free, it can pay off in time saved.

CutList (EW) This has been an indispensible tool for creating plans. It almost instantly gives you dimensions of the parts in your model and helps you determine how much wood you'll need to buy. I also use it as a quick way to check a model to make sure things are drawn correctly. I always work at the highest precision I can set in SketchUp. In fractional units that's 1/64 in. I don't intentionally draw anything with dimensions that show 64ths, though. I'll run a cutlist and look through the dimensions for 64ths or dimensions preceded with a tilde ~ which indicates the dimension is between 64ths. It's easy to go back to the model and check out the component for errors. 
PurgeAll (SCF) is a handy way to clean up unused components, materials, layers, etc. It's a good idea to run this from time to time to help reduce file size. 
Those are the primary extensions that I use frequently.
There are some others that come in handy from time to time. Here's a few of them. 
Curviloft and Extrusion Tools both from SCF are useful for creating complex surfaces.
FredoScale and Joint Push/Pull from SCF and Eneroth Upright Extruder (EW) are great for modifying shapes you've already drawn. 
Curvemaker (EW) This is a cool suite of tools for drawing spirals, helices and other curves. It was developed by a gentleman who does fancy scroll work in iron for gates and other decorative pieces. 
Solid Inspector2 and CleanUp2 (EW) are excellent tools for cleaning your models and helping to sort out problems with geometry.
There are many other extensions out there. If you have time, browse through the EW and PluginStore to get an idea. Or, if you find a need for some tool, do a search. Wait until you need them before you get them, though.
–Dave