Solid Method for Curved Drawers
Smart bent lamination gives the look and feel of solid wood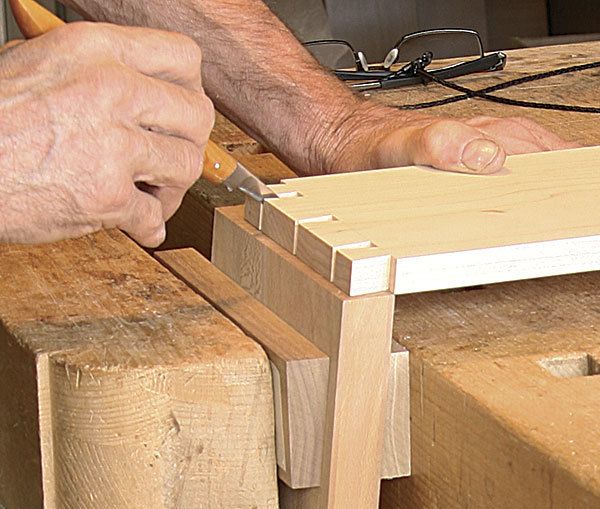 Synopsis: Suppose you have a special piece of figured wood that you want to stretch for use on a series of curved drawer fronts. You can slice it into veneer and use it on bent-laminated, curved core, but that would limit your joinery options. Or would it? Stewart Wurtz demonstrates a time-tested method that uses a bent-laminated core but gives you the appearance and joinery options of solid wood—including half-blind dovetails. See how he does it.
I'd like to share a technique for making curved drawer fronts that have a bent laminated core but give you the appearance and joinery options of solid wood. This lets you stretch a single plank of special wood across a series of curved drawers, yet still join the drawers with traditional half-blind dovetails. The key to the technique is to glue a block of solid wood to each end of the drawer front's laminated core—while also adding the usual edging top and bottom. Because the edging and end blocks are cut from the same plank as the face veneers, the construction is virtually undetectable.
I came across the idea on a visit to Edward Barnsley's workshop in the Cotswolds more than 35 years ago, when I was just starting out in woodworking. I was mystified when I saw that many Barnsley pieces with curved fronts had string inlay or cock beading right around the drawer fronts—not something solid wood readily allows—yet these same drawer fronts were joined with half-blind dovetails. Shaking a little in my boots, I asked Mr. Barnsley about it, and, as I remember, he kindly explained that end blocks were applied to a laminated core construction. In the years since, I've used the approach repeatedly, evolving it as I go. It's particularly useful on curved drawers, but I've also used it with flat drawers where my show wood was very special and in short supply.
When I built this dresser I had two planks of beautiful madrone that I wanted to use for the tops and drawer fronts of three bow-front chests that would all live in the same room. To stretch the madrone I used poplar as the core for the drawer fronts. I cut 1⁄8-in.-thick slices and built up a 5 ⁄8-in.-thick core. On drawers with thinner fronts, I sometimes save time by using bending plywood for the core rather than sawing up solid wood.
Before slicing the madrone show veneers, I crosscut the 2-in.-long end blocks from the madrone planks. I cut the show veneers 3⁄32 in. thick, and from each sheet I bandsawed a strip wide enough to produce the edging for the top of the drawer front. This guaranteed a perfect grain match between the top and the face of the drawer front. In cases where there's enough width in the sheet to yield the bottom edging also, I cut that off too. If not, I'll cut an extra sheet or two of veneer and cut the bottom edging from them.
For the full article, download the PDF below:
View PDF