Simple Hanging Cabinet
The Shakers had this diminutive design pegged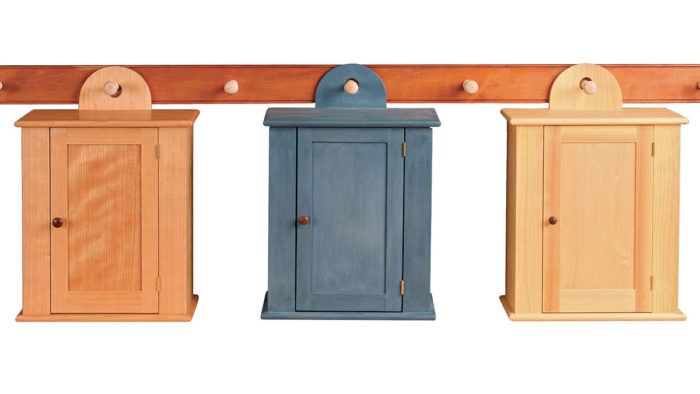 Synopsis: This small Shaker cabinet was inspired by a piece from the Hancock, Mass., Shaker community. Christian Becksvoort made some design changes, such as substituting a frame-and-panel door for the original slab door. The cabinet's light but strong dovetailed case is dressed up with non-structural top and bottom panels with overhanging, bullnosed edges. The semi-circular hanger was adapted from a larger cabinet. This cabinet looks great in any number of woods, or with a painted finish.
The Shakers didn't invent the peg board, but they refined it, popularized it, and made it one of their hallmarks. They used peg boards to hang not only hats and clothes but also brooms, mirrors, clocks, chairs, shelves—even cabinets. And their wall-hung cabinets have always interested me. This version was inspired by one of my favorites, a small cabinet from the Hancock, Mass., community. The original had a slab door, but I've substituted a frame-and-panel door. I adapted the semi-circular hanger from a larger cabinet, and incorporated half-blind dovetails in the case.
The slight proportions are part of the charm of the piece. The case and the door frame are 1⁄2 in. thick, while the back is 3⁄8 in. and the shelves and door panel are just 1⁄4 in. thick. I've built quite a few of these cabinets, and they look great either painted or clear finished in pine, cherry, or walnut.
A small, strong case
The original cabinet's case is nailed at the corners, but I made min with half-blind dovetails for additional strength. Lay out and cut the dovetails using your preferred method, keeping in mind that while the case parts will all be flush at the front, the sides are wider than the case top and bottom because they are grooved for the back.
Before assembly, sand the inside surfaces of all four pieces. Then glue and clamp, checking to be sure the case is perfectly square. When the glue is dry, plane or sand the exterior surfaces flat and smooth.
While the case is curing, make the cabinet top and bottom. With a roundover bit at the router table, shape the bullnose on their front and side edges, where they'll overhang the case. Glue the bottom to the case at this point, and then add the faceframe stiles and the shelf supports.
For the full article, download the PDF below:
View PDF