Online Extras for the 2017 Tool Guide
Don't miss the free online extras for our newsstand-only publication featuring top-notch tool reviews, videos, and articles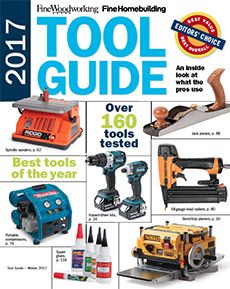 Order your 2017 Tool Guide today. (Also available as a Digital Issue on tablets)
It's the best-selling all-tool resource in America. Our annual Tool Guide has become the trusted reference for pros, non-pros, and homeowners because it delivers up-to-date tool reviews and top picks from Fine Woodworking and Fine Homebuilding editors and readers.
 
Online extras for this special issue:
When it comes to routing, securing your workpiece is the key to safety and accuracy. But how do you clamp a workpiece while leaving a top or edge unobstructed for the router's path? This video shows you a few ways. 
Try a track saw
Fine Homebuilding associate editor Patrick McCombe gives you the rundown on how to use a track saw and shows you why you should think twice before you write them off.
Saw like a pro
Like any hand tool, backsaws require skill to use well. You can buy a great saw, but you can't buy the skill to use it. With these exercises, you'll saw like a pro in no time.

Stuck on you
Super glue is a great at adhering things together, especially fingers. Fine Woodworking web producer Ben Strano shows you what to do next time you find yourself in a sticky situation.

Become an online member
Subscribe to our website to access exclusive tool videos and articles. Learn more about the online membership here.