Tool Test: Drill Presses
Floor-standing models have more power, capacity, and convenience than benchtop models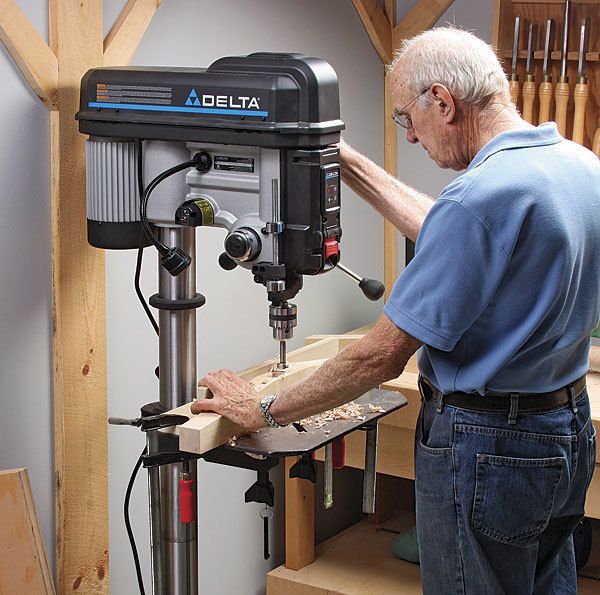 Synopsis: A full-size drill press offers more power, larger, tables, and more swing than a benchtop model, and they don't require table space. We tested models with a quill travel of at least 4 in. and a table that tilts 45° in both directions.
Models tested include: Central Machinery 39955, Delta 18-900L, General International 75-260 M1, General International 75-500, General International 75-700 M1 VS, Grizzly G7947, Grizzly G7948, Porter-Cable PCB660DP, Rikon, 30-236 VS, Rikon 30-240.
While a benchtop drill press will be adequate for the majority of holes you drill, there will be times you'll want the power and capacity of a full-size machine. On average, floormounted drill presses offer more power, larger tables, and more swing (the distance between the post and the chuck). Most importantly, many of today's machines have 4-in.-plus of quill travel (the distance they can plunge a drill bit), which not only makes deeper holes possible but also means you won't have to adjust the table height as often—still an awkward process on any drill press. Finally, a floor-mounted drill press might actually save space in your shop, by sitting in a corner vs. taking up valuable countertop space.
Drill presses haven't evolved far from their machine-shop roots, so I focused on models with two woodworker-friendly features: quill travel of at least 4 in. and a table that tilts 45° in both directions. That narrowed an enormous field to 10 machines from six manufacturers. (Jet, Powermatic, and Shop Fox had machines that fit our criteria, but they declined to participate.) Chucks ranged from 5⁄8 in. to 3⁄4 in., all plenty big for woodworking bits. All came prewired for 120 volts.
Clean, consistent holes of any size
The main reasons I choose a drill press over a handheld drill are power and precision, so I looked at those attributes first. To test power, I used a 2-in.-dia. high-speed steel (HSS) Forstner bit to drill through 2 in. of hard maple. I used Lee Valley and Veritas bits for all the tests, as they have done very well in FWW's past tool tests.
I ran the bit as close to the recommended 400 rpm as each model allowed, and I drilled with a very heavy hand. I wasn't able to stall any of the motors, but I was able to make the belts slip on a few—the Rikon 30-236, the Porter-Cable, and the General International 75-700—even after pulling the belts extra tight. That meant I couldn't push this big bit quite as hard on these machines. However, that would only be a problem if you were drilling scores of big holes a day. All of the machines produced very clean holes, by the way.
To test runout and accuracy, I tightened 1 ⁄4-in.-dia. and 1 ⁄2-in.-dia. drill rod (precisely ground lengths of drill steel) in the chuck, placed a dial indicator against the rod, and turned the chuck slowly by hand, letting go before taking each reading. In case the chuck's grip was inconsistent, I remounted the rods several times and repeated the test, averaging the results. Runout ranged between 0.001 in. and 0.005 in. We rated anything under 0.003 in. as "good" or better.
For the full article, download the PDF below:
View PDF