New Power Tool Developments from DeWalt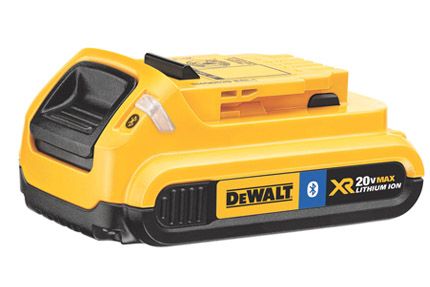 Last week I was invited to Charlotte, NC by DeWalt Power Tools for a peak at their newest manufacturing facility as well as some of their latest tool releases. DeWalt is one of many manufacturers embarking on an effort to produce more products here in the United States. DeWalt's methodology however, includes a unique twist. Bearing the tag line "Built in the USA with Global Materials," these products are assembled in U.S.-based plants, incorporating parts made both here and abroad. Although the majority of tools I saw were more appropriate for the homebuilding industry, there were a couple of interesting developments for the woodworking market.
Bluetooth-Enabled Batteries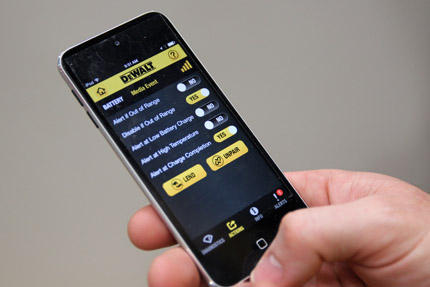 DeWalt's new lineup of 20V bluetooth-enabled batteries work in conjunction with a Tool Connect app (Apple and Android platforms) that keeps track of a variety of metrics. I know what some of you are thinking-it sounds like a gimmick-however, after a bit of thought, I realized that this technology might actually have saved me from frying some of my most recent batteries. Unlike older battery technology, today's lithium-ion batteries should not be allowed to fully discharge. Here at the Fine Woodworking workshop, our batteries are routinely stored on the charger so as to keep this from happening. The consequences of allowing this new breed of battery to discharge-as I learned by way of killing two of my own batteries at home-are dire. Before I knew about the need to keep these cells at least partially charged at all times, I killed two within one year. The new Tool Connect app allows you to keep track of battery charge levels, and can even be used to disable a battery at the end of a work day. Although I don't believe I require that ability personally, I would certainly welcome the ability to keep track of my charge levels.
2.0 amp and 4.0 amp models will be available in late July at a cost of $99 (MSRP) and $139 (MSRP) respectively.
New Line of Low-Vibration RO Sanders
Back in 2012 we reviewed a new sander by Bosch that boasted "vibration control" technology and it looks like DeWalt is hitting the same market. Their new DWE6423K 5-in. variable speed random orbit sander features an internal counterweight to help minimize vibration. I took a brief test drive and found it comfortable to use, although I'd love to do a side-by-side comparison with a typical sander to get a better picture.
The sander will be available in August at an attractive price-$79.
We'll be sure to get both of these tools in for review in the coming weeks. And when we do, you'll be the first to hear about it.
DeWalt's new line of 20V bluetooth-enabled batteries are available in 2.0 amp and 4.0 amp models.
The DeWalt factory floor in Charlotte, North Carolina.
A new low-vibration random orbit sander felt good in my palm, although I hope to perform a side-by-side comparison with a conventional sander.
Cordless tool motors are wound with copper wire via a specialized machine, before assembly on the factory floor.
The Tool Connect app allows users to keep tabs on a variety of battery metrics - including charge levels.