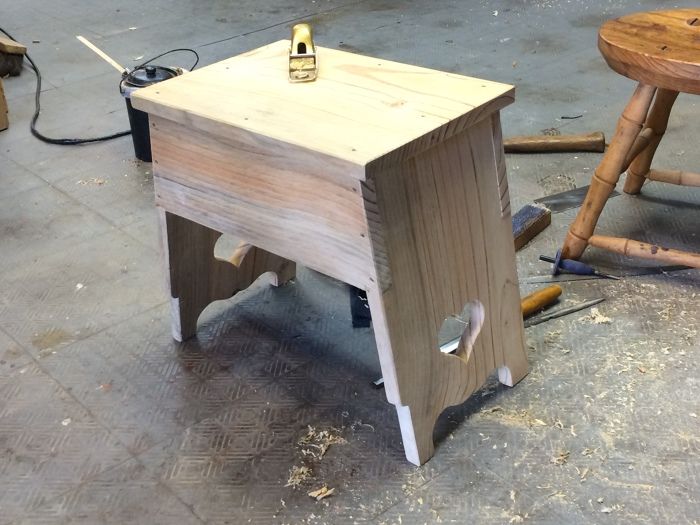 The Flip Along function is one of the most confusing for newcomers to SketchUp. But it's a feature that's hard to avoid in woodworking because we continually flip, or mirror, components in our furniture. There is a choice to make every time you use the Flip Along function: Do you flip along the red, green, or blue axis? It's not always clear which one to choose.
I'll use this Kitchen Stool in demonstrating how the Flip Along works. There are only 3 components here, and two of them need to be flipped into position. This skirt component is duplicated in front and back positions, and the angled sides are also duplicate components. But they need to be "flipped" to be positioned properly.
You can avoid much of the confusion about Flipping by creating components in their actual position within the model. So this would be the best way to start the creation of the model and its components – that is, in the context of their actual positions.
I don't normally show the component's axes while modeling, but in this case I've turned that feature "on".
As the Flip Along function is executed on the component's axis, which is based on its orientation when first created, this component can be conveniently flipped on the axis that it is copied.
Now let's assume that the original Side component is created independently outside the context of its position in the assembly. After orienting and connecting this component, and then performing Flip Along, it will fail.
However, there is a work around….. If you combine components, SketchUp defaults to a Flip Along action that is more intuitive…. That is, you flip along the axis of movement.
Often on angled components, late in my design process, I like to modify the component axes, so the bounding box lines up with the actual board's edges. This makes the dimensioning easier, and also provides an accurate CutList.
In the video, I show how to change the component axis.
I sure would like to have a "Flip Along" function in my shop.
Tim
@KillenWOOD