Juice Up Your Joinery
Artistic tenons pack structural power with visual punch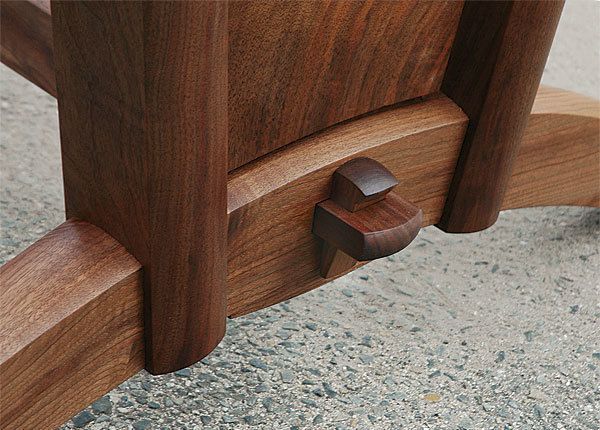 Synopsis: Hank Gilpin fell in love with the mortise-and-tenon more than 40 years ago, and he's been playing with the joint ever since, finding ways to add strength and ramp up the visual impact. Here, he shows a variety of beefed-up joints, including multiple tenons for maximum strength and impact, shaped through-tenons to add zing, open mortises, wedged tenons, and the stylish tusk tenon.
I was seduced into the woodworking field when I walked into a college class in 1973 and watched Tage Frid tie a piece of steamed ash in a knot. But it was my enchantment with joinery that sealed the deal. I quickly discovered that if I worked with solid wood and traditional joinery I could make simple, strong, practical pieces fairly quickly and get a thrill out of doing it. I became Mr. Mortise-and-Tenon. The more I used the joint, the more variations I discovered. Forty years later, I'm still experimenting with the mortise-and-tenon, finding new ways to add a little more strength and visual zing to the piece of furniture and a little more delight to the process of making it.
Multiple tenons multiply the impact
Through-tenons bring something special even to an otherwise simple piece, adding visual appeal and a good deal of strength. Soon after I made my first ones, I began doubling the tenons where it made sense structurally. I looked everywhere for ideas, and I found the vertically stacked and haunched tenons in an old English book on door-making. Separated tenons reduce problems with wood movement and take less meat out of the mortised member. As a bonus, they're beautiful. And if you cut the tenons in contrasting wood—poof!—they're as dramatic as inlay.
Shaped tenons make a showpiece
Once you start using through-tenons, and then proud throughtenons, you open up a whole new realm—why not make really proud tenons? Then you can shape them any way you want. I typically give them a shape that picks up another detail in the piece. There are no rules. On the little curly maple table at left, I designed different shapes for each tenon. That makes it more fun to look at and more fun to make.
The open approach
Having the top of a table rest on the leg is an ancient habit that I like to break. I often lift the top a smidge, which draws attention to the structure below. When I do, I'll often use an open-topped mortise. It gives me a good amount of glue surface and strength even while exposing the tenon on two edges.
Photo courtesy of Hank Gilpin
For the full article, download the PDF below:
View PDF