Delta - Delta 5000 Series Tablesaw
Delta tablesaw has electronic motor brake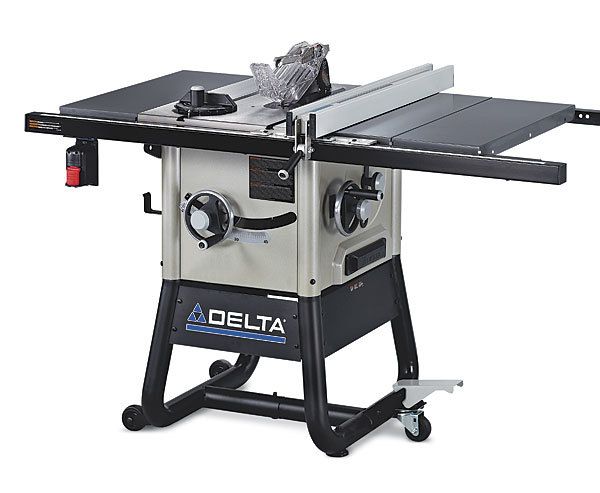 Delta's New Tablesaw Has a Lot to Offer
Delta has introduced a new tablesaw that's available in multiple configurations. You can choose steel extension wings with either a 30-in. or 52-in. rip fence, or go with cast-iron wings and either fence. The saw I've been using has cast-iron wings and a 52-in. fence.
The saw's unique feature is its electronic motor brake, which brings the blade to a stop within a few seconds after the motor is switched off. The 15-amp induction motor, wired to run on a 110-volt circuit, had enough muscle to handle 8/4 hardwoods without trouble. A few other features really stood out. The riving knife, which is sized for standard-kerf blades, can be used either with or without a guard. When the guard is removed, you can push the knife lower than the top of the blade so that you can make non-through cuts without much fuss. I also liked the T-square-style fence, which locked down square and slid smoothly. The motor is completely enclosed in the base, and the saw has good dust collection, with a 2-1/2-in. port in the cabinet. The cast alloy trunnions and gears worked smoothly, and there's an arbor lock for single-wrench blade changes.
The built-in mobile base is handy, but the pedal used to raise and lower the saw was difficult to reach because of its location under the wide side extension table.