Miter Blocks are a Great Tool for Cutting Tiny Trim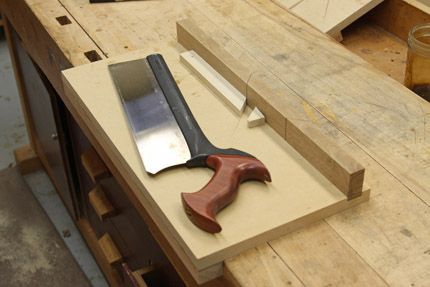 I've built several humidors over the years and the design I use incorporates small pieces of hardwood edging to protect the fragile veneers that cover my boxes. While you could certainly cut these pieces on a miter saw, it's a bit overkill. For greater accuracy, I cut this joinery with a handsaw and follow-up at the shooting board.
In order to achieve accurate cuts, I use a simple miter block. Built from workshop scraps including a small sheet of MDF, some screws and glue, and a two hardwood strips, these little benchtop jigs come together super fast and last a surprisingly long time. Browse the photos above to get a sense of how I build my miter blocks.
Of course there's more than one way to skin a cat. My colleague, executive art director Mike Pekovich, often uses an even simpler block. His is nothing more than a block of oak with a rabbet running along one of the long edges. The block is clamped down in his bench vise and works just as well. Be sure to check out Mike's video blog on the subject.
A quick word on accuracy. The cuts produced on my miter blocks are generally very accurate however, I never worry if they're off by a degree–that because I always follow up my cuts with a bit of clean-up at the shooting board. My shooting board fences are very accurate and by planing after my cuts are made, I ensure nice smooth, crisp joints.
1) A simple workbench jig. This miter block makes quick work of cutting tiny trim.
2) I begin by gathering my materials--including a small MDF scrap, and two hardwood scraps. One scrap will be used as a cleat on the underside of the MDF base, while the other will serve as the guide fence for my saw plate.
3) Shallow groove holds block in place. At the router table or the tablesaw, I cut a shallow groove set in about 3/4-in. in from one of the long edges. The actual guide for my saw plate will eventually be housed in this groove.
4) Mark your miters. Next, I mark out where I wish to have my straight 90-degree cut, as well as 45's in either direction. Those cuts are then made at the miter saw, after checking my set-up with some test cuts and a combo square.
5) Glue it down. At this point, you'll have 4 workpieces which come together to form the saw guide. I start at one end and glue the first piece into place. Then I slide in the next piece, with my saw plate in place.
6) Not too tight. When you "trap" the saw plate in place during glue-up, just be sure not to bring the guide blocks on either side in too tight. You want to be able to saw freely.
7) Screws seal the deal. Next, I flip the jig over and screw up from beneath for added durability.
8) Miter block in action. Notice how I've also added a cleat to the underside of the jig. The cleat registers against the front apron of my bench. Using a miter block like this, coupled with a shooting board, leaves me with crisp, clean miters and straight cuts.