Arts & Crafts Furniture
Online extras for our special issue covering 10 classic Arts & Crafts furniture projects you can build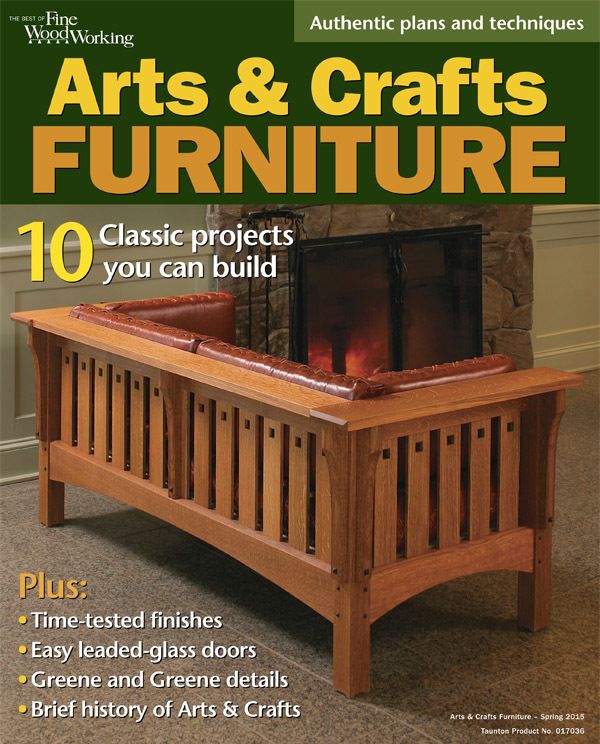 Fine Woodworking's special issue on Arts and Crafts furniture takes a comprehensive look at this classic style. In it, today's experts like Kevin Rodel, Michael Pekovich, Nancy Hiller, and Gregory Paolini share their experience and knowledge so you can efficiently reproduce this timeless style or successfully add your own flair to an iconic piece. You also will gain background on influential makers and the elements of their styles.
In addition to the 10 classic projects outlines in our special issue, readers should be sure to consult our list of associated online extras. These step-by-step videos and audio slideshows add even more information to this comprehensive list, making it easier than ever to build beautiful Arts and Crafts furniture.
Purchase your copy of our Arts and Crafts Furniture special issue today.
 ONLINE EXTRAS FROM ARTS AND CRAFTS FURNITURE

Expand Into Glass
with Michael Pekovich


Learn how to create custom leaded-glass door panels for your Arts and Crafts furniture projects with our soup-to-nuts audio slideshow.

  
Flawless Finish for Greene and Greene
with Matt Kenney
Unlock the secrets of furniture maker Darrell Peart's simple finish for Greene and Greene furniture with our step-by-step video tutorial.


   

Arts and Crafts Upholstery
with Kevin Rodel
In this multi-epsisode video, veteran Arts and Crafts furniture maker demonstrates his techniques for traditional upholstery on a Craftsman classic.

     

Hayrake Dining Table Video Workshop
with Michael Pekovich


Learn how to build a rustic dining table inspired by Sidney Barnsley designs. Michael Pekovich breaks construction down into manageable steps in this members-only video series.

   

Arts and Crafts Glass-Front Cabinet Video Workshop

with Michael Pekovich
Michael Pekovich takes viewers through every step of the construction process as he builds a glass-front cabinet with Arts and Crafts flare in this members-only Video Workshop series.  




 

  

Bow-Arm Morris Chair Video Workshop
with Gregory Paolini
Gregory Paolini leverages bent lamination techniques to construct a classic Arts and Crafts bow-arm Morris chair in this member-only Video Workshop series.