JessEm - Jessem Model 08350 Master Kit Dowel Jig
Drill holes for 1⁄4-in., 3⁄8-in., and 1⁄2-in. dowels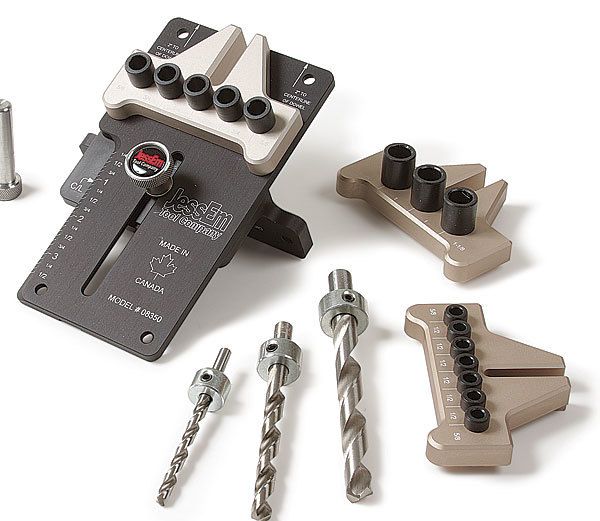 Versatile Jig, Easy to Use
Jessem's newest dowel jig has two features that set it apart from every other dowel jig I've used. First, you can adjust the plate that holds the drill guides in 1/8-in. increments without removing the jig from the workpiece.
This allows you to drill parallel rows of dowel holes quickly. Second, a slot on one end of the plate is aligned with the center dowel hole drill guide, which makes it very easy to drill mating holes for an edge glue-up.
After drilling holes in the first edge and putting dowels in them, clamp the mating board to the first board face to face. Then place the slot in the jig over the dowel and drill a hole in the center bushing. This guarantees that the hole in the second board is in perfect alignment with the one in the first board (and saves you a ton of meticulous and tedious layout). The jig also comes with alignment pins for drilling a series of holes in a straight line.
I tested the master kit version of the jig, which includes everything you need to drill holes for 1/4-in., 3/8-in., and 1/2-in. dowels. This is a versatile jig that's easy to use. Each dowel size requires different-size drill guide bushings, but switching between the guide plates is easy, because you need only remove four small screws with a provided Allen wrench. The drill bits were sharp and the depth collars stayed put. The jig has helpful hash marks for locating the dowel hole centers.