Minwax - Minwax Antique Oil Finish
Thin finish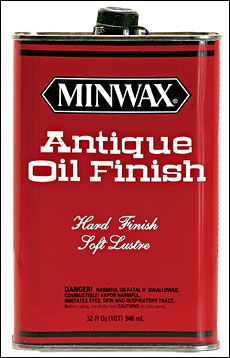 Pops Figure Well
From FWW #245 (January/February 2014)
By Mark Schofield
Street price/qt.: $20
Coats needed – wiping: 3 to 4
Coats needed – brushing: 5
Surface quality – wiping: Good
Surface quality – brushing: Good
Shimmer/depth*: Very good
Figure**: Excellent
Scratch test: Good
Comments: Thin finish builds very slowly, especially when brushed. Pops figure well.
*Tested on cherry
**Tested on curly maple
From FWW #178 (July/August 2005)
By Chris A. Minick
The author tested 15 wipe-on finishes, including a water-based finish and both tung-oil and linseed-oil-based finishes. Pure boiled linseed oil and Minwax Fast-Drying Polyurethane, a brushing finish, were added for comparison. All the finishes were tested on pieces of red-oak plywood cut from the same sheet. Minwax Antique Oil Finish dried in five hours to a low-gloss sheen with middle-of-the-spectrum color. Its water resistance was poor.