Tool Test: Midsize Fixed-Base Routers
Great combination of power and control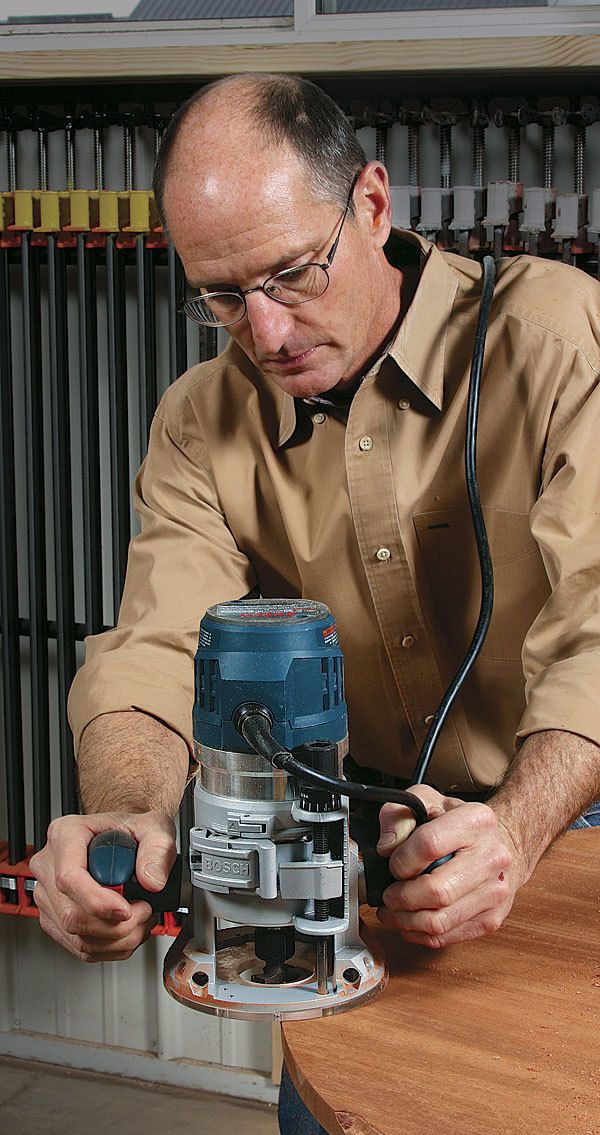 Synopsis: On its own or teamed up with shopmade jigs, a fixed-base router can drill, shape, size, plane, and cut wood similar to the way big stationary equipment can. A midsize model is ideal for woodworking. Here, Marc Adams and staff members at his woodworking school evaluated eight routers for smoothness of cut, control and handling, accuracy, comfort of the grips, ease of handling, and ease of bit changes. In the end, several routers stood out.
Models tested: Bosch 1617EVS, Bosch MRF23EVS, DeWalt 618, Hitachi M12VC, Makita RF1101, Milwaukee 5616-20, Porter-Cable 892, Ridgid R22002.
A fixed-base router is an invaluable tool for woodworkers of every skill level. On its own or teamed up with shopmade jigs, this elegantly simple tool can drill, shape, size, plane, and cut wood similar to the way big stationary equipment can. If you don't already have a fixed-base router, you should get one.
Go for a midsize model—larger than a trim router, which can be held in one hand, but smaller and lighter than a heavy, industrial 3-1⁄4-hp router. Rated between 11 and 15 amps, midsize models are plenty powerful for common tasks yet are still relatively compact. At $120 to $220, these routers are an excellent value.
Together with the three permanent instructors at my woodworking school, I tested eight midsize fixed-base routers, rated between 1-3⁄4 and 2-3⁄10 hp, with electronic speed control and including both 1⁄4- and 1⁄2-in.-dia. collets, so you can use the full range of router bits. The speed ranges are similar, from 8,000 to 10,000 rpm up to 23,000 to 25,000 rpm.
Electronic motor control is a somewhat recent innovation, which helps the router maintain its rpm under load. It also allows soft start, which is a must-have in my book. Without it a router goes instantly from 0 to 20,000-plus rpm when you flip the switch, jumping in your hands. With soft start, the router comes up to speed gradually and smoothly. And if by accident you start the router while the bit is in contact with a board, it won't kick as hard.
All of the routers will work in a router table, but the Bosch, Ridgid, Porter-Cable, and Milwaukee routers offer through-the-base depth adjustment for that purpose. All of the models offer edge guides as accessories, but we didn't test them.
We evaluated the routers in 30 different ways, but boiled it all down to five ratings: cut quality, router accuracy, control and handling, bit changing, and visibility of cut.
We started with the most important question: Can the router make smooth cuts in the toughest situations? Our first test was for runout (wobble), which could come from either the motor or collet and create chatter and a bumpy cut. We put a good-quality, new 1⁄2-in. router bit into the collet, placed a dial indicator against it, and rotated the bit by hand.
For the full article, download the PDF below.
View PDF