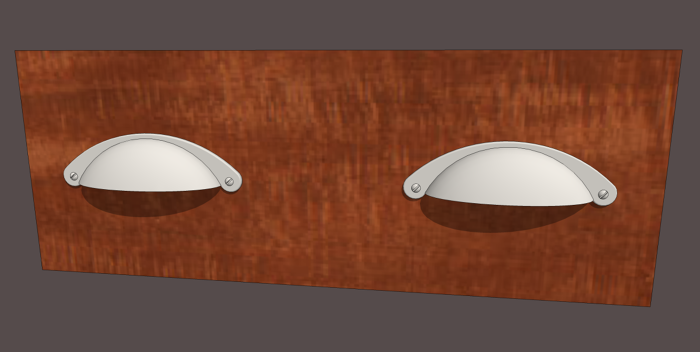 I was asked about a method for drawing a bin pull type of of drawer pull. A long time ago I did a tutorial showing how to do that but that one seems to have evaporated into the ether so here we go again. Most of the process is done with the native tools but I did employ a few plugins. The first one is Point at Center which is part of the Ruby Script Examples set which you can get from the Extension Warehouse either directly or through the Window menu if you have SketchUp 2013 or later. the next plugin is Weld and the final one is Round Corner.
None of this is very difficult but it does require doing some thing in the right order and a couple of little tricks which I've shown before because I use them frequently when drawing smaller objects. The first trick involves drawing only half of the pull. Due to the symmetry of the model, this saves us some work. The other trick leverages one of the benefits of using components to overcome SketchUp's disinclination to make tiny faces. Take a look and see if there's anything to glean out of the video that will help you in your modeling endeavors.
Remember, after you've made the pull component, save it to your favorite library so you can easily use it on future projects.