Jet - Jet JWBS-14SF 14-in. Bandsaw
Can resaw boards up to 13-1/2 in. wide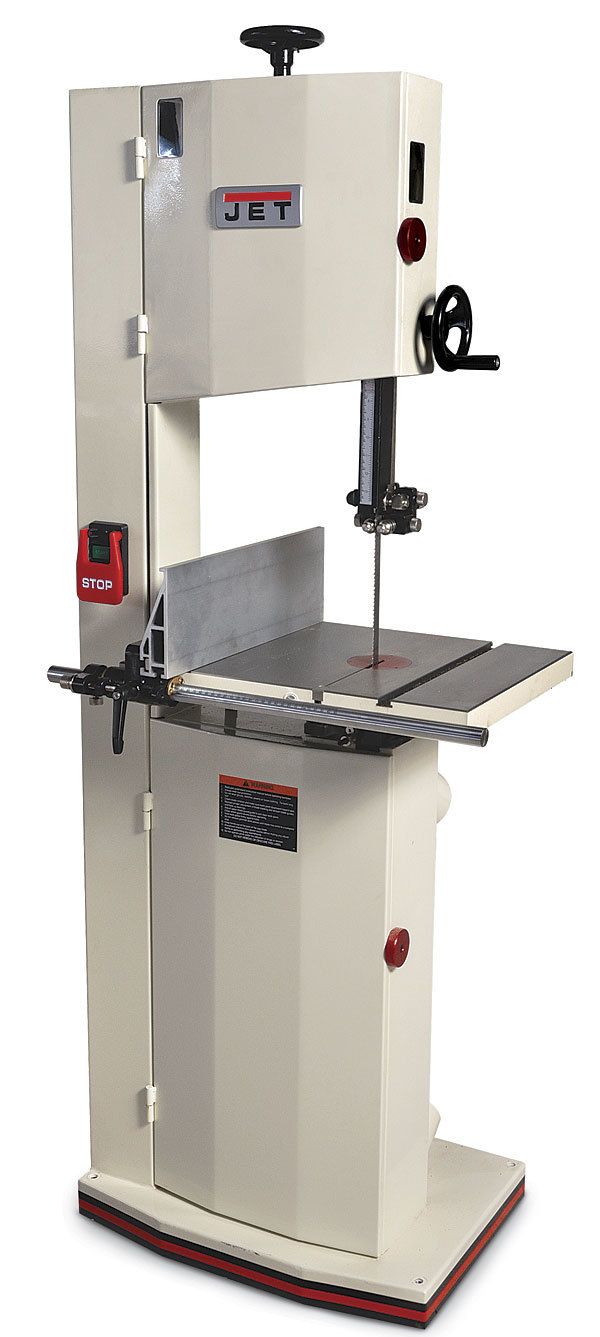 Bandsaw is Big on Resawing
From FWW #244 (Tool Guide 2015):
Street price: $1600
Motor (HP): 1-3/4 in.
Resaw capacity: 13-1/2 in.
Ease of blade changes: Very good
Ease of guide adjustments: Excellent
Guide-post alignment: Good
Guide-post rigidity: Good
Dust collection: Very good
Fence: Excellent
Resaw cuts: Good
Curve cuts: Good
Has a great two-position fence with an etched scale and micro-adjust knob.
 
 
From FWW #239 (March/April 2014):
With its massive resaw capacity and well-designed fence, Jet's new 14-in. bandsaw is impressive. The bandsaw can resaw boards up to 13-1/2 in. wide, the largest capacity of any 14-in. bandsaw on the market. The saw's fence is just as impressive. It has a micro-adjust feature that allows very accurate placement with the twist of a knob, and the fence rail has a deeply etched scale that's accurate and easy to read. The fence's aluminum face can be quickly switched between two different configurations: The high position provides support for resawing, while the low position allows the guides to drop to within 1/2 in. of the table surface for sawing thin material. Its 1-3/4-hp motor (wired for 115 volts, but can be rewired for 230 volts) will handle the majority of sawing that you'd ask it to do, but if you plan to resaw at its capacity, you'll need to slow down the feed rate. The 21-1/2-in. by 16-in. cast-iron table has one of the largest round throats I've seen, making it easy to install and remove wide blades. The anodized aluminum throat plate has three set screws to level it with the surrounding tabletop. The guide post is very stiff, with a rack-andpinion system for height adjustments. Adjusting the roller-blade guides is a tool-free breeze and the guides hold their settings accurately. A quick-release lever for blade tension speeds up blade changes and a window in the upper wheel house makes it easy to track the blade. There are two 4-in. dust ports. The one below the lower guides pulls most of the fine dust, and the one at the bottom of the saw helps catch the rest. A crank-operated, rack-and-pinion system adjusts table tilt. When set to 90°, the table didn't move. But when angled for bevel cuts, it shifted slightly under pressure. Fortunately, bevel cuts aren't common on a bandsaw, so the problem isn't necessarily a dealbreaker. But if Jet corrected this problem, they'd have a great bandsaw.