Easy Wood Tools - Easy Wood Tools Easy Chuck
Makes jaw changes fast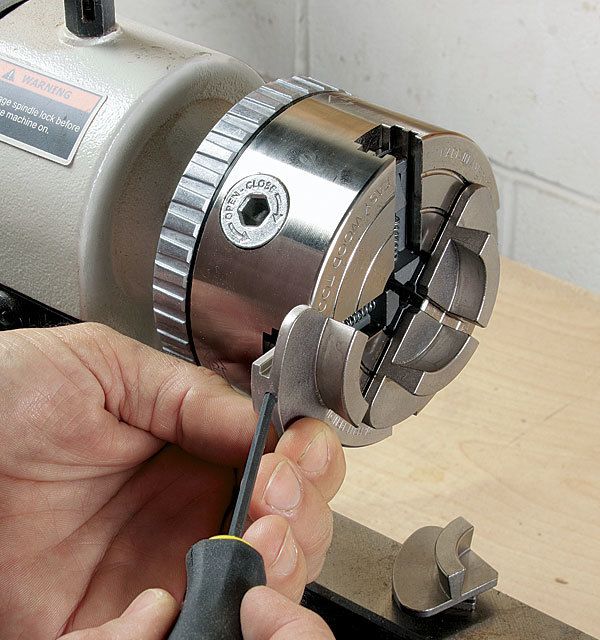 Quick-Change Chuck is a Game-Changer
Since its introduction in the 1980s, the four-jaw chuck has improved all realms of turning—not just hollow vessels—giving turners multiple options for mounting work and eliminating the fussiness of a faceplate.
Inevitably, if you become interested in wood turning, you will own one of these chucks. But soon you will find out that you need different jaws to perform different functions. Then you will find out how time-consuming it is to replace jaws. Sure, you could buy another chuck with different jaws, but that's a costly endeavor.
Easy Wood Tools has a better solution with its Easy Chuck, which makes jaw changes lightning-fast. With the Snap-Lock mechanism, you simply press the individual jaws into the base until they grab and lock. To release them, you use the supplied jaw key. The jaws are case-hardened and nickel-plated and are held in place by the chuck's body and not screws, which are more susceptible to shear. The edges of the jaws are rounded over to reduce knuckle injuries. Mounting work is fast. You simply twist a ring on the base to snug the jaws around the workpiece and then cinch them tightly with just a turn or two with a chuck key.
The Easy Chuck fits 1-in. by 8-tpi spindles and comes with jaws that grip 1-3⁄8-in. tenons. You can buy other jaw sizes as accessories ($70) and an adapter for 1-1⁄4-in. spindles ($38). It's pricey, but whether you're a beginner or an experienced turner, you'll love this chuck.