AWFS: Wide drum sander will tame big slabs and more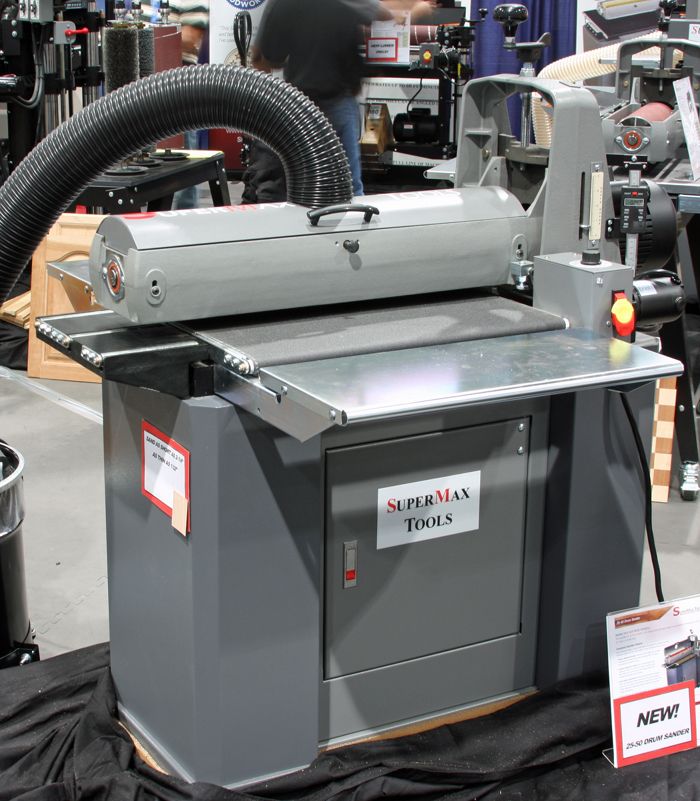 SuperMax's new 25-50 open-sided drum sander is the widest on the market, with enough muscle to support a 49-in.-wide slab up to 4 in. thick, and enough finesse to sand 1/32-in.-thick veneers and inlay.
At under $2,000 it might be just the ticket for someone who was considering a wide-belt sander, which would run them many thousands more. But you get all the benefits of power-sanding, which include zero tearout, even on the wildest woods.
An open-sided sander handles wide work in two passes, and the 25-50 is designed for just that, with a roller support on the open side and a quick lever that tilts the bed just .003 in. to avoid a step or overlap mark in the center of a big panel.
SuperMax sanders also have smart circuitry that senses load, slowing down the feed rate to avoid burning or bumps, and extend the life of the abrasive.
Woodworkers will also appreciate the extralong frame around the drum, with allows easy access to the clips that hold the sandpaper on, reducing a belt change to under a minute.
Company reps suggest that woodworkers start at 80 grit for most work, making a quick change to 120 grit for a final pass, before moving on to random-orbit for example. Belts are standard 3-in.-wide abrasives, widely available, but you can also buy the sanding wraps precut from SuperMax for about $8 each. They will last for hundreds of board feet with regular cleaning–a crepe rubber block works best.
So don't be afraid of drum sanders. Depending on the type of work you do, the 25-50 might be just the ticket. Go to SuperMaxTools.com for much more info.
If you have a production cabinet shop, or you happen to work a lot with big slabs or shopsawn veneers, you should consider the SuperMax 25-50, which can sand a 49-in.-wide panel in two passes.
To sand wide slabs in two passes, you flip a lever to tilt the bed just a hair. This prevents any overlap marks or steps in the center, but is basically undetectable.
Unlike some similar sanders, the SuperMax has extra room in the casting to allow easy access to the clips that hold the belt in place.
You just roll on the belt without overlapping it. Gaps are fine. A belt change takes less than a minute.