AWFS: Rockler Set to Release Computer-Controlled Router Table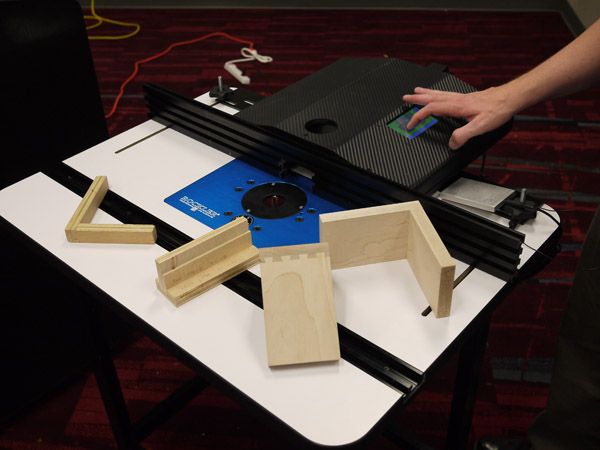 First it was CNC, then it was SawStop technology, now Rockler and Next Wave Automation (makers of the CNC Shark) hope to take computer-controlled technology to the next level with a "smart" router table fence system dubbed "Ready to Rout."
The Ready to Rout system, set to debut in late September/early October, comes standard with four apps designed to produce box joints, dado joints, halfblind dovetail joints, and a whole host of step-and-repeat operations (think flutes spanning the width of a board). Additional apps, like one for cutting through dovetails, are also in the works. Need a custom app? We hear that might be a possibility as well. The unit is set to retail for $599.
Here's the basic idea. Let's take a box joint as an example. After setting the bit height in the conventional manner, the operator zeros the fence and uses the touch screen to indicate the router bit width, and width of stock. The router is turned on and the first cut is made. Next, the operator hits a button which causes the fence to move to its next position, makes the next pass, and continues on down the line. 
Additional features include the ability to use an imperial sized bit (say 1/2-in.) while at the same time entering in metric measurements. The computer compensates for the difference in measures. In addition, firmware updates can be made via a USB port on the back of the fence and the ability to download a diagnostic file for forwarding to Next Wave in case of technical problems might be in the works as well.
The full possibilities of this tool remain to be seen, and that will ultimately determine its market. That said, the Ready to Rout system is an interesting step in the march towards smart tools. The question is: just how smart do we want them to be?
The "Ready to Rout" computer-controlled router table fence system.
The "Ready to Rout's" touch screen interface.
The system is currently capable of routing halfblind dovetails. An app for through dovetails in under development presently.
Cut 1 for a set of box joints. After this cut, the operator presses a button on the touch screen and the fence readjusts.
Cut 2 for a set of box joints.
Cut 3 for a set of box joints. Then it's just a matter of continuing on down the line.