Veritas - String Inlay Tool
The various parts of the string inlay kit can be configured to perform a range of tasks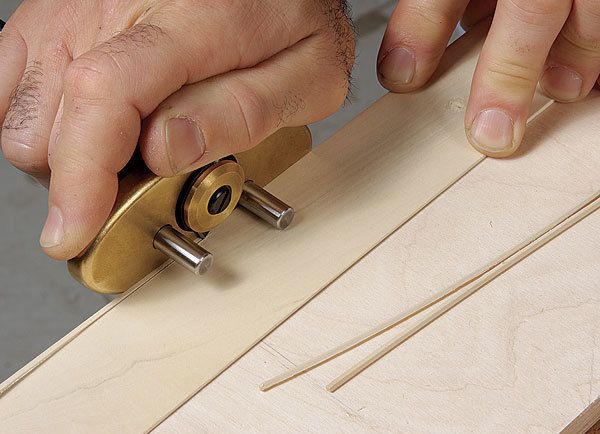 New system makes stringing easy
Federal period furniture features delicate, contrasting stringing, a detail that is beautiful in more contemporary work too. But anyone contemplating such projects is faced with the practical problem of how to execute smooth arcs, circles, and straightaway grooves to accept the stringing. Furniture makers use a variety of tools, usually shopmade, and the process demands extreme care and patience. Then you have to make the stringing to fit, thin and uniform.
To make this beautiful work much easier, Veritas has designed and produced a neat set of tools. The basic string inlay tool features a cutterhead, a fence, and two blades—one for cutting the groove, and one for slicing inlay material. You also can buy the basic setup with a compass tool and/or pencil holder, which is the kit I tested.
The various parts of the system can be configured to perform a range of tasks, from design and layout to cutting grooves and slicing veneer for stringing. This is a quality tool that was carefully designed and put together. I found it very easy to assemble and set up; and the required adjustments were easy to perform.
For straight inlay, say along a leg or table edge, the tool works like a marking gauge. Adjust the cutter to the required distance from the fence (up to 3-1/4 in.) and at its maximum projection, and start cutting. The cutter is designed to score the edges of the groove in one direction and excavate the middle in the other. The tool delivers clean grooves, even across the grain. Although you can limit the depth of cut by controlling the cutter's projection, I found it easier simply to use the maximum projection and gauge the depth by eye.
For curves, you replace the fence with the compass center and use the pencil holder to first mark the layout, then install the cutter to cut the groove, using the same push-pull motion. Last, you combine the slicing blade with the fence to cut inlay strips easily and accurately.
There's a learning curve with this tool, and I'd recommend practicing with it on scrap stock before using it on your project. Straight grooves are no problem, but using the tool on curves requires a bit more "driving experience." After a practice session, all of my grooves turned out crisp, without tearout, and sufficiently deep to receive stringing without extra work. With this tool, you'll be installing period-perfect stringing in no time.