Smooth Curves with Hand Tools
To create silky, sinuous edges on furniture, hand tools are faster than routing or sanding.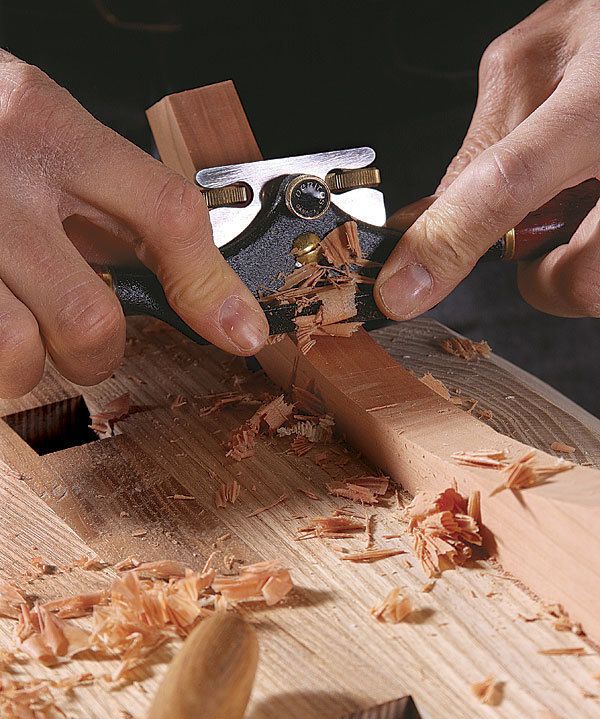 Synopsis: Every furniture style has its own visual language, and that language often involves curves. Whether you bandsaw curves or rout them, they all require smoothing afterward. Some furniture makers get frustrated by this task and resort to sanding, but that can be dusty and tedious and can fail to yield fair curves with crisp surfaces. If you are new to curved work, follow the advice of Jeff Miller: Use this handful of basic tools—handplane, spokeshave, rasp, and scraper. It will be easier to smooth both convex and concave curved surfaces, and you'll get the results you want.
When I started building furniture, my designs were simple, squarish Shaker and Mission-style pieces. But as my skills grew, I began drawing curves inspired by the human body, nature, or architecture. Curves became crucial to my work, making it more expressive, more appealing to eye and hand.
Whether you bandsaw curves or template-rout them, they'll need smoothing afterward. Many woodworkers struggle with this and resort to sanding—dusty, tedious work that doesn't yield fair curves or crisp surfaces. I'll show you a better way to smooth both convex and concave curves using a handful of basic tools: handplane, spokeshave, rasp, and scraper. You'll get smooth curves without kinks, flat spots, or bumps—surfaces that invite hands to run along the edges of your work.
Bear in mind that these tools are for flat (so to speak) edges, as opposed to sculpting freeform, rounded shapes. Alf Sharp covered those in FWW #208.
Handplanes can handle some curves
For gentle-to-moderate convex curves (or very gentle concave ones), I start with a sharp handplane set up for a light cut. A plane chatters less and smooths more efficiently than lighter tools.
With a bench plane, I use a standard grip on the handle and tote. I also hold a block plane with two hands. On convex curves, very little of the sole rides the surface, so control the tool by balancing downward pressure, fore and aft, to keep the edge in the cut. Two things help: First, power the stroke with your lower body, not your arms. Second, roll the plane forward as you move, as if you're pushing it around a large wheel. On concave curves, skew the tool to shorten its sole. With any curve, if you can't follow the curve with a plane, it's time to switch tools.
Shaves work curves, inside and out
Spokeshaves are made to smooth curves, both convex and concave. The short sole makes it easier to follow a curve, especially when the radius is tight or changing.
Hold the tool with your thumbs pushing on or near the blade and your fingertips at the front. This lets you vary the angle of attack to follow the curve as you push with your lower body. The shave has very little mass to dampen vibration, so work slowly to avoid chatter. A sharp blade is crucial.
Skewing the tool lengthens the sole on the surface, reducing chatter, bridging high spots, and making it easier to start a cut. Be careful not to bevel the surface sideways, though. Check it periodically with a square.
For the full article, download the PDF below:
View PDF