Wudworx–A Handy Plugin Set For Joinery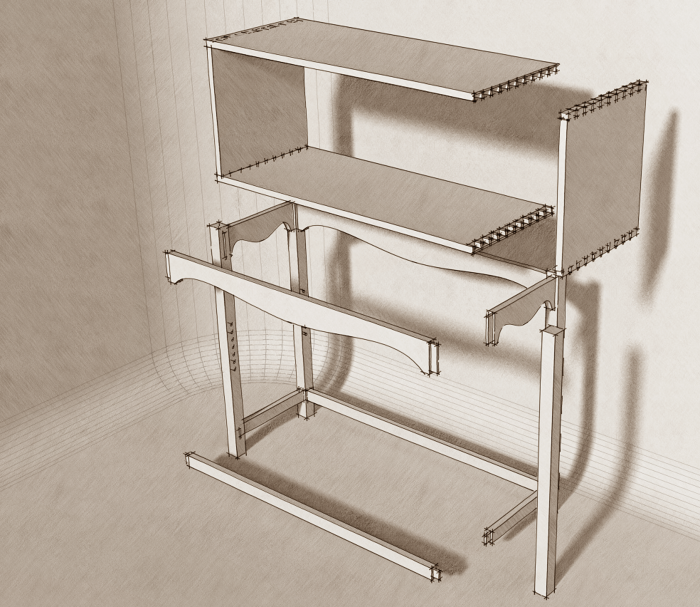 Almost exactly two years ago I wrote about a plugin tool set called Wudworx which has been very helpful for me in speeding up the process of drawing dovetail joints as well as basic mortises and tenons. I've demonstrated drawing these joints manually a number of times here on the blog. They aren't really difficult to draw by hand but  these tools really speed things up and let me move on to doing other things sooner. Recently the author added a tool for drilling holes. Holes are probably simpler in most cases than dovetails and mortises but this tool speeds up making countersunk and counterbored holes. It'll also make arrays for things like shelf pin holes.
Take a look at this video for a quick demo of these tools.
http://blip.tv/play/gYhbg46sJwA.html?p=1
When making arrays of holes, the number you enter in the VCB is the number of copies in addition to the first hole in the same manner as arrays made with the Move/Copy tool. I didn't demonstrate it but you can also make arrays by locating the first and last holes in the run and typing /n with n being the number of copies. Again, this is just like the Move/Copy tool.
If you prefer you can enter slopes for your dovetails instead of angles by typing, for example, 1:7 instead of a simple number such as 8. You can also create box joints with the Dovetail tool by setting the dovetail angle to 0.
There is a tool called Boardmaker included in the tool set. I didn't demonstrate it but it might be a handy tool for you, too. It essentially combines the Rectangle and Push/Pull tool along with Create Component into a single step. The parameters dialog for the Boardmaker allows you to define a component name and the plugin simply appends an incremented number for each new board you create. You would probably want to go through and rename the components in Entity Info at some point.
While the Wudworx plugin is not a free one, I think it is well worth the money in the time it can save you. If you've been reading my blog posts for very long you know that I try to stress efficient methods of work in SketchUp. No matter how nice your SketchUp model is, you can't sit on it or eat off it or sleep on it. You still need to go out to the shop and build it. The less time you spend drawing a project, the more you can devote to building it.