Never Struggle with Squeeze-Out Again
Wonder product prevents glue from sticking but doesn't affect finishes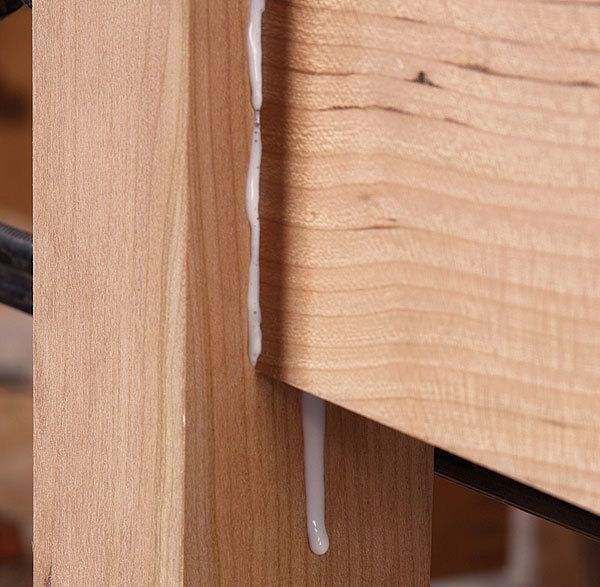 Synopsis: Most of us have a love-hate relationship with glue squeeze-out. That thin, consistent bead of glue along a joint line indicates we've used enough glue for a strong bond. But it also presents a dilemma in terms of cleanup. If you remove it before it is dry, you may leave behind residue that will interfere with the finish to come. If you wait until it is dry and try to clean it up with tools, you risk nicking or gouging the wood. Michael Fortune has a different technique that is easy to clean up and doesn't interfere with finishes. He uses Waxilit, a silicone-free wax, on surfaces where he doesn't want glue to stick. It works like a charm, makes cleanup easy, and doesn't interfere with finish. Any silicone-free wax will give similar results.  
When I glue up a joint, I want to see a small, consistently sized bead of glue squeeze-out along the joint line. It's a good indication that the joint isn't starved for glue. It's also a pain in the neck. If you remove squeeze-out while the glue is wet, you run the risk of leaving behind residue that you invariably discover only after applying a finish. But try to remove the hard glue with a chisel or scraper and you can damage the wood.
I reached my limit of frustration 20 years ago while making 14 chairs that each had over 60 joints. I spent a full week removing the squeeze-out from the first chair I glued up. So, before I glued up the next one, I desperately searched for a solution.
I found a great one: Waxilit. I'm surprised more people don't know about it. It was originally designed to minimize friction on the surfaces of production woodworking machinery, but I also discovered that glue does not stick to wood that has been coated with it. After the glue has dried for about an hour, it pops off cleanly from the coated surface! Just as importantly, Waxilit doesn't affect finish. It's easy to wash it off with denatured alcohol, and I've put a lot of finishes over it—everything from penetrating oils to sprayed lacquers—without any problems. I've done some testing with waterborne finishes (which I don't use) and they seem to work fine with the waxes, too. It really is a cure-all for squeeze-out. And the time you spend applying and removing Waxilit is nothing compared to the hassle of removing squeezeout and then repairing the damage you caused.
I apply Waxilit around joints before I spread any glue, and it's an important part of my inlay technique, too. It's easy to apply and simple to remove. I'll show you how.
After you've bought your first can of Waxilit, there is one thing you need to do before you use it: Let it sit with the top off until it becomes about as firm as a stick of Crisco. Otherwise, it's too soft and can bleed into the wood, making it difficult to clean up.
I sand all of my parts up to P220-grit before applying the wax. Also, I dry-fit the joints and clamp them. With the joint tightly together, you can spread the wax with no fear that it will get on any of the glue surfaces. I use a facial tissue or toilet paper to apply the wax, smearing it into the tissue with my finger so that it goes on in a smooth, even coat. Wipe it wherever squeeze-out and drips are likely to occur.
For the full article, download the PDF below.
View PDF