Woodcraft to Acquire Japan Woodworker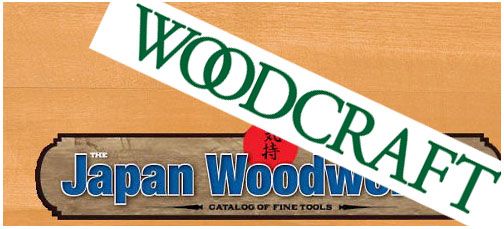 According to a statement released last week, Woodcraft will soon acquire Japanese hand tool retailer Japan Woodworker. Owners Fred and Sally Damsen, who have run the California-based business for 34 years, say that Japan Woodworker's website, mail-order catalog, and customer service number will continue to operate under Woodcraft's ownership, but the retail store in Alameda, CA, will close its doors.
On the bright side for Japanese tool lovers, some Japan Woodworker products will now be available at Woodcraft's 75 retail locations in the U.S. The sale won't be finalized until mid-November, according to the Damsens' statement.
To our Valued Customers,

…

I am pleased to announce that Japan Woodworker will remain a strong company in the capable hands of Woodcraft Supply, LLC., who has signed a Letter of Intent to acquire Japan Woodworker. Japan Woodworker and Woodcraft share many similarities, longevity being one – Woodcraft has been in business for 85 years! And like us, they pride themselves on providing professional quality woodworking tools. Woodcraft is also a strong, recognized brand, but most important Woodcraft is very service oriented and is known for providing its customers with exceptional service. Simply stated, Japan Woodworker and Woodcraft are an extremely "good fit" with regard to business values and service to customers. It is important to Sally and me that we leave you in good hands. It is our intent to conclude this transaction on or about November 15, 2012.

Woodcraft will continue to operate the Japan Woodworker website and catalog, while staffing the 800 customer service telephone number, just as Japan Woodworker does today. To this end, our customers will still be able to visit the Japan Woodworker Internet site, receive a Japan Woodworker catalog, have product questions answered, place orders and receive services from Japan Woodworker, just as they do today. While the local Japan Woodworker retail store on Clement Avenue in Alameda, California, will cease operations, retail customers nationwide will now be able to purchase Japan Woodworker products from one of Woodcraft's 75 retail store locations including two in California.

…
It remains to be seen whether the deal will benefit woodworkers. Fred and Sally Damsen are selling the business so they can retire, they say; it's not clear whether the sale was prompted by any other factors, or how much input they'll have in how Woodcraft runs Japan Woodworker. Which Japan Woodworker products will be available at Woodcraft stores? Will the catalog and website offer the same diversity of products?
I contacted Woodcraft for comment on these questions, but they declined to elaborate on Damsen's statement. "As negotiations progress and more information is known," a Woodcraft representative told me via email, "it will be communicated accordingly."
So, for now, all we can do is speculate.
Check out the new Japan Woodworker website.
More from FineWoodworking.com: