Attack of the Community Woodshop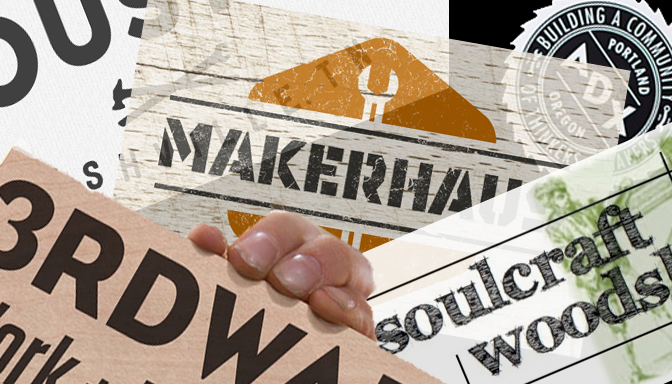 Like a lot of you, I'm a self-taught woodworker. I taught myself trim carpentry first, with the help of reference books and a whole lot of trial, error, and learning things the hard way. When you're self-taught, and don't have people around you who can show you the best way to do things, you inevitably develop idiosyncratic methods – some are harmlessly inefficient, and some make things much, much harder than they should be, and worse, keep you from advancing your skills.
Books, online forums, and YouTube videos are great, but they're no replacement for having someone standing next to you showing you how they do something. Even the most advanced woodworkers benefit from having other woodworkers around to bounce ideas off. Unfortunately, for most of us, woodworking is usually a solitary pursuit.
But increasingly, depending on where you live, it doesn't have to be. Around the country, community woodshops are springing up, giving lonely tinkerers access to active communities of fellow woodworkers — and all the great tools and equipment you wish you had.
The other day we heard from lawyer-turned-furniture maker Peter Debelak, founder of Soulcraft Woodshop in Cleveland, Ohio, which opened to the public last year. Soulcraft, according to its website, is a "community woodworking shop, educational cooperative, and gallery. Whether you're a complete novice brimming with ideas, or whether you're looking to launch a woodworking business, we aim to incubate your ideas and your craft!"
The model is similar to that of other community workshops around the country: Take a short orientation and shop safety certification class, sign a liability waiver, and you're in business. You can then take classes and/or choose from a menu of membership options-from full, unrestricted shop access, down to a one-time hourly rate.
Especially if you live near a city, it's increasingly likely that there's a community workshop in your area. Debelak cites 3rd Ward and Makeville in NY, and Sawdust and TechShop in CA, as models for Soulcraft. But they're not the only ones out there – there's Fort Houston in Nashville, TN, Southside Hub in Chicago, ADX in Portland, Community Workshop in Los Angeles, The Crucible in Oakland, HammerSpace is Kansas City, MakerHaus in Seattle, Buildmore Workshop in Dublin, OH, MakerWorks in Ann Arbor, MI, and Philadelphia Woodworks in Philly. TechShop has three locations in California, and one each in Michigan, Texas, and North Carolina, with future sites planned for Arizona, Washington, DC, and Brooklyn. (I'm sure I'm missing plenty of the community workshops out there — if you know of one in your neighborhood, let me know in the comments.)
I'm sure some woodworking purists look sideways at the so-called "maker movement" (which includes many other pursuits, from machining to electronics to underwater basket weaving) as organized dilettantism. But it's hard for me to see how this trend won't be a net benefit for woodworking. It lowers the barriers to entry by allowing access to the shop space, tools, and machinery that can take an individual woodworker decades and tens of thousands of dollars to amass. It will create more customers for toolmakers and retailers, and it will make woodworking accessible to young people who would otherwise be shut out from pursuing what is, for most people, a prohibitively expensive hobby.
I wish there had been a place like Soulcraft in Boston when I was just wading into the shallow end of the woodworking pool.  I used to drool over the North Bennet Street School course catalog and pray for a lottery miracle. A community workshop may not have instructors of that caliber, but it certainly offers a collaborative, competitive environment-which would hasten any woodworker's development.
More from FineWoodworking.com: