Build Your Own Spray Booth
Get a pro-style setup at a fraction of the cost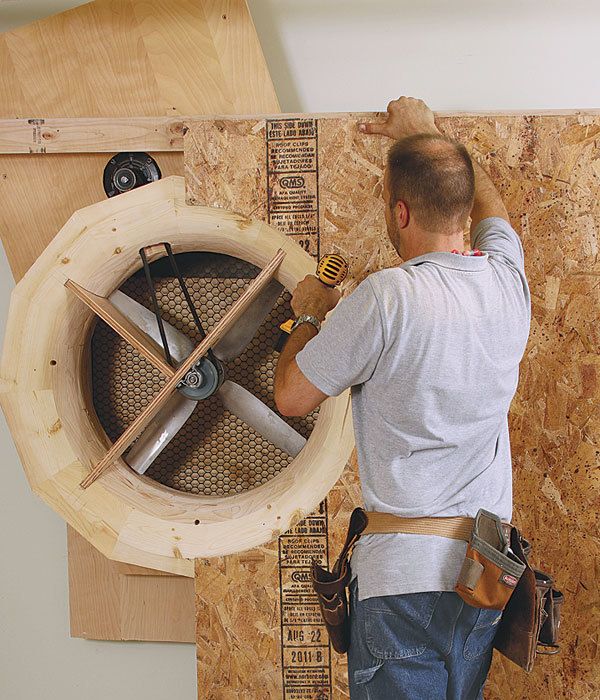 Synopsis: It's hard to beat a sprayed finish for quickness and quality. The problem is that you need a place to spray where ventilation is not an issue and overspray from your project won't land on walls, furniture, or cars. This shopmade spray booth is just the ticket. Modeled after a commercial cross-flow model, it's affordable and convenient, and it will fit in the back of a garage or in your shop, providing storage space when it's not being used. A high capacity fan at the back of the booth expels waste air through a door in the end of the building. Fresh air enters the front, picks up overspray, and deposits it on a filter before passing through the fan.
Once you've learned to spray a finish, you'll never pick up a brush or cloth again. First of all, it's quick: You can completely finish a large project in one day. Then there's the quality: Finishes designed for spraying dry quickly, so dust is less likely to settle in them. with practice, you can spray a finish that's so good it doesn't need rubbing out. But first you need a place to spray.
My shopmade booth is modeled after a commercialstyle, cross-flow model, something I've wanted for a long time but could never afford. It cost less than a quarter of the $4,000 to $5,000 price of a commercial booth and didn't take long to put together.
Good airflow determines the location
The first decision is where to build this large chamber. There are two considerations, space and airflow. I put mine in the back of my detached garage, and because the booth is 9 ft. wide, like a standard parking space, there is just enough room to park a car in it. But even if you build the booth in your shop, it doesn't have to be wasted space because you can use it to store a lumber cart or any machinery on a mobile base.
You need a source for the large volume of fresh air to feed the booth. I simply open the garage door, directly opposite the booth. If you're pulling air from the house, you will need to open several windows or doors to supply the volume of air needed for good cross-flow. You'll also need an opening for the exhaust air at about waist height. This can either be an existing window or a hinged door cut in the siding like mine.
A bellmouth improves the fan's efficiency
The heart of any spray booth is the fan, which draws large volumes of air quickly past the workpiece, pulling away overspray and fumes. A household box fan is nowhere near powerful enough, nor are most wholehouse extraction fans.
From Fine Woodworking #230
For the full article, download the PDF below:
View PDF