Taking the Spray-Finish Plunge
A spray system can improve finish quality and increase your productivity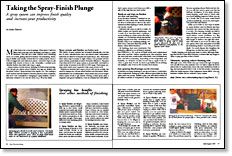 Synopsis: Andy Charron didn't have a dust collection system or a finishing room in his first shop, so he turned to a spray booth. He lists the benefits spraying has over other methods of finishing, how to overcome disadvantages, and how speedy the method is. It reduces your costs, too. He offers tips on how to spray cleanly and how to make this system work for you.
My first shop was a one-car garage. What space I had was filled with tools that were absolutely necessary to make furniture. That left out a dust collector and a finishing room. As a result, getting dust-free finishes was frustrating. Brushing on shellac and varnish worked fine for small projects, but as I took on bigger jobs and built more pieces, I turned to wipe-on oils because they weren't as fussy to use. Eventually, I needed more durable finishes that didn't take long to apply.
A spray system was the answer. Spraying on finish is fast and easy. You can get into places where brushes and rags are useless. Spray finishes look superb, too. The coating is more uniform and the finishes between pieces is more consistent. But once I was committed to changing to spray finishes, I knew I had some research to do.
Spray systems and finishes are better now
The variety of spray systems has increased dramatically over the last 10 years. Manufacturers have introduced small, inexpensive units that are ideal for hobbyists and small shops. Also, there have been many improvements in high-volume, low-pressure (HVLP) spray systems, particularly in terms of transfer efficiency. The price of an entry-level HVLP spray system is around $200, and there's a wide variety of systems in the $200 to $500 range. These spray systems aren't much more expensive than many power tools.
Waterborne finishes have improved as well, and as a result, the need for dangerous, solvent-based finishes has decreased. Waterbased finishes are nonflammable, which means that you no longer need a spray booth to get started. Having a clean spray area, a respirator and good ventilation (I use an exhaust fan) will suffice. And a spray system won't leave you with a pile of oily rags that can catch on fire.
Brush-on and wipe-on finishes are slow and exacting
In my furniture business, I brushed on varnishes for only a short time. Varnish was just too slow to brush and too slow to dry. And I needed excellent lighting to brush, sand and rub out the varnish.
From Fine Woodworking #113
For the full article, download the PDF below:
View PDF