Routing with a Template
Shape furniture parts reliably with a template and a flush-trimming router bit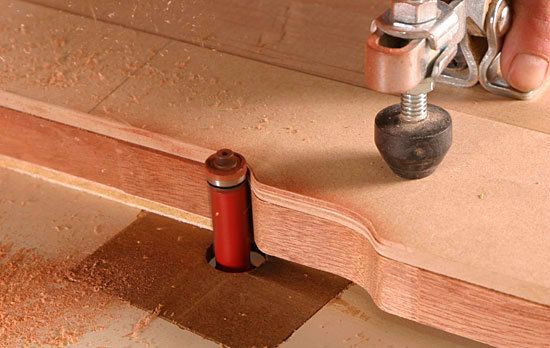 One operation the router is great for is producing furniture parts with a template and a bearing-guided straight bit. In this audio slideshow, Gary Rogowski, a Fine Woodworking contributing editor and owner of the Northwest Woodworking Studio in Portland, Oregon, details how to produce a template and create furniture parts with a shopmade jig.
The router-table jig used in this demonstration is simple to build. The illustration below details how to hold a workpiece in the jig and align it with the router bit on the router table. A toggle clamp is screwed to the jig fence, which in turn is screwed to a 1/4-in.-thick base. Clamp the workpiece and template into the jig and set the bit in the router table so that the bearing rides against the template.
See another style of template-routing jig in action in this short video with Peter Schlebecker of the Center for Furniture Craftsmanship.
Slideshow Produced by Matt Berger; Photos: Stephen Scott; Drawing: Christopher R. Mills
View PDF