Multi-Router turns 25 and still can't be beat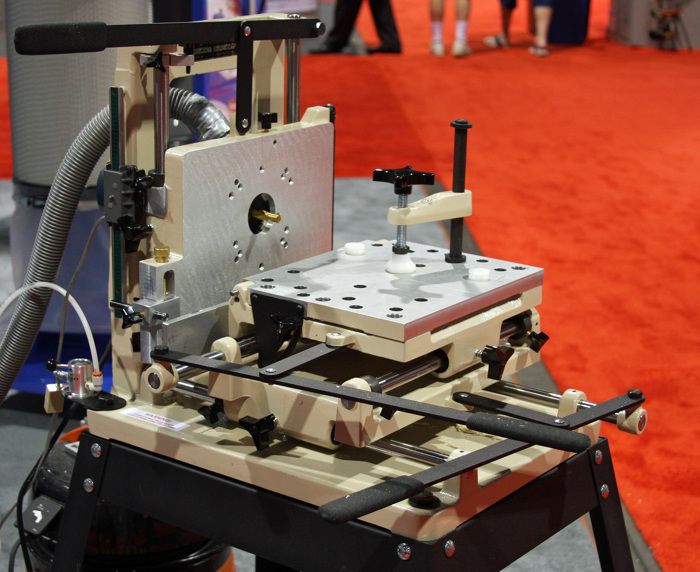 I know I'm supposed to be reporting on new tools at IWF 2012, but I can't help but write a short ode to one of my all-time favorite tools, which I found sitting at the front of the JDS booth, where it rightly belongs. The JDS Multi-Router, which turns 25 this year, has won every test we've ever done of joint-making machines, and is still unchallenged.
Still made here in the U.S., its aluminum tables cast in the same factory, its machining done by the same machinists, its parts still coming from the same U.S. suppliers, the Multi-Router is still as perfect as ever. It does exactly what you want it to, moving beautifully in three axes, with with easily adjustable stops, tilting tables, clever hold-downs, and endless ways to position work repeatably.
I've wanted one longer than I can remember, but they simply aren't available on the used market. The JDS guys told me to check estate sales, which means I have to wait for an owner to kick the bucket to get one at a discount.
You'll have to pony up $3K for a Multi-Router, but everyone who owns one tells me I have no idea how many doors it will open. I don't doubt it. Perfect mortises and tenons at any angle are just the beginning. How about custom pulls and other funky joints of all kinds. The mind boggles.
Happy 25th birthday, Multi-Router. Someday you'll be mine.
More from FineWoodworking.com:
JDS's three-axis routing machine, the Multi-Router, is as perfect today as it was when it was first released, 25 years ago, and still made right here in the USA.