Upgrade a Compressor Drain Valve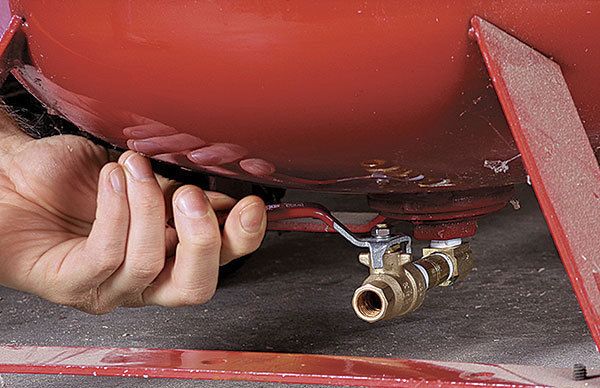 Q:
The air compressor shown in FWW #225 (p. 88) appeared to have its drain valve replaced with a ball valve. How do I do that to my own compressor?
Nathanial Myles, Iowa City, IA
A:
The drain valves on compressors can be difficult to reach and open, but you can build a replacement from three parts: a 90° street elbow, a short nipple, and a ball valve, all common items at a hardware store. The most common thread for compressor valves is 1⁄4 in. NPT, but remove the valve and check your fitting at the store. Before threading the pieces together, wrap two layers of white PTFE tape, also called Teflon tape, around the threads. Wind the tape clockwise to prevent it from pulling up during threading.
Connect the nipple to the ball valve, and then connect the nipple to the elbow before threading the elbow into the tank. If small leaks develop, try yellow PTFE tape instead. It's made for gas pipes and is thicker than the white type.
Inexpensive Upgrade
For about $15 in parts at a home center or hardware store, you can replace the drain valve with a large, easy-to-reach ball valve.
Undersize and tough to grasp The small drain valves found on most compressors are difficult to get to, and in some cases, hard to open.