The Best Woodworker You've Never Heard of
For 55 years, the amazing Jere Osgood has blended modesty and mastery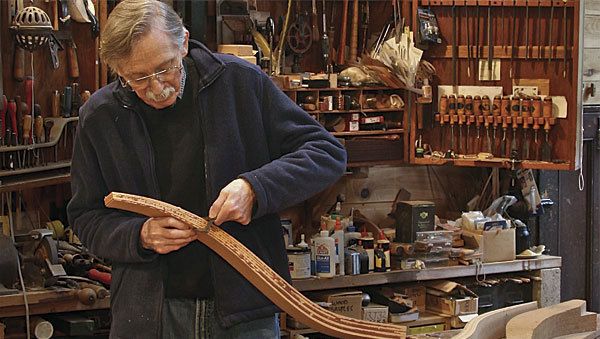 Synopsis: In the course of his 50-year career, Jere Osgood has quietly pushed the boundaries of innovation in terms of furniture making style and structure. His work is featured in museums and is exhibited all over the country. He's earned The Furniture Society's lifetime achievement award and has been a mentor to countless students, some of whom are among the most prominent furniture makers in the country. He's a master at finding brilliant solutions to technical problems. Yet many folks have never heard of him. Read on to learn more about this quiet innovator and his furniture.
---
Learn more about woodworker Jere Osgood in a Fine Woodworking audio slideshow.
From Fine Woodworking #225
Jere Osgood is one of the most remarkable furniture makers in America. He also happens to be one of the most humble, and, considering the scope of his achievement, one of the least well-known.
In the 55 years since he opened his first shop, Osgood has continually reset the boundaries of innovation in furniture-making style and structure. His work has been acquired by museums, widely exhibited, and he has earned The Furniture Society's award for lifetime achievement.
Celebrated for the daring curves of his desks and the subtly convex sides of his casework—as well as for the path-breaking techniques he uses to produce them—Osgood is also noted for a painfully shy manner and a voice that starts in a mumble and tops out at a whisper.
Diffidence may not seem an ideal attribute for a teacher, yet in 15 years of full-time teaching in the 1970s and '80s, Osgood proved a powerful mentor to a large number of students, many of whom are now among the country's most prominent furniture makers.
Osgood's own education in woodworking began in his father's basement workshop on Staten Island, N.Y., in the early 1940s. His father was not an advanced woodworker, but he instilled a resourcefulness in his son that stuck: If you wanted something, you made it.
Osgood, whose first name is pronounced "Jerry," also learned from two uncles and a grandfather, all of them avid amateur woodworkers. At every family gathering, Osgood recalls, "You'd go in the front door and immediately down into the workshop." Before he was 10, Osgood, an only child, was making his own toys. By the time he hit his teens, he had built his own workbench (which still sees use in his shop) and was repairing and refinishing furniture for neighbors.
He also began building furniture for himself and others. One early commission was for a large bookshelf he built the winter he was 14—and delivered through snowy streets on his sled. At 22, when he enrolled at Rochester Institute of Technology in 1958 to study under Tage Frid, Osgood was already showing his work publicly and had two pieces in an exhibition at the Museum of Contemporary Crafts in Manhattan. And he had spent the previous two years studying architecture at the University of Illinois.
All this did not impress Frid, the legendary Danish craftsman and teacher who would later become Fine Woodworking's most important early contributor. Frid had learned woodworking the old-fashioned way, serving a traditional apprenticeship in Copenhagen beginning at age 12 and working for years in a variety of Danish cabinetmaking shops. Osgood still remembers with a wince Frid's gruff assessment of his homegrown hand skills and unorthodox joinery: "You've got to start all over. All this stuff you were doing before you came here—forget about it!"
For the full article, download the PDF below.
View PDF