Folding sawhorse stows away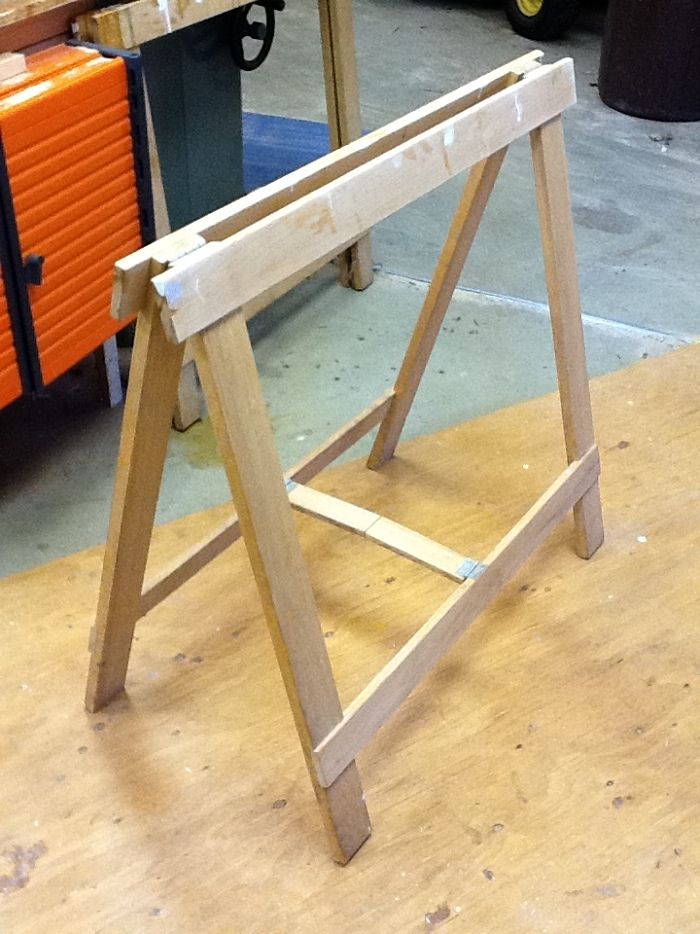 Every shop needs a set of sawhorses. I don't use them so much for sawing as I do for organizing parts and pieces as I mill them and work on them, keeping them close at hand. As editor of FWW, I've seen dozens of sawhorse designs, but these are the ones I have in my shop.
I made them from some scrappy maple I had lying around (maple is great because it can be thin and yet very strong), and the hinges are those cheap utility type you can find at every hardware store. The only real joinery is the shallow rabbets and dadoes that the crosspieces sit in, to give them some extra load-bearing strength.
In the end, these thin, folding horses can probably support 1,000 pounds each. I've piled on dozens of heavy boards at a time without a problem.
What is really smart, I think, is the lower folding support bar, which hinges at the middle and ends to fold upward with a flick of your toe when you want to stow the horses, and snaps downward into place when you open the horse to use it.
Although I made these about 8 years ago, I got the idea many years earlier. I believe there was a guy making and trying to sell something similar out of his garage. That's a tough sell for something so simple to make, and I'm sure he's not the first to use a folding support bar like this. But if you are that guy, and you are still out there trying to sell them, my apologies. If not, thanks for a great tip.