Drool-Worthy Workshop Videos for 2012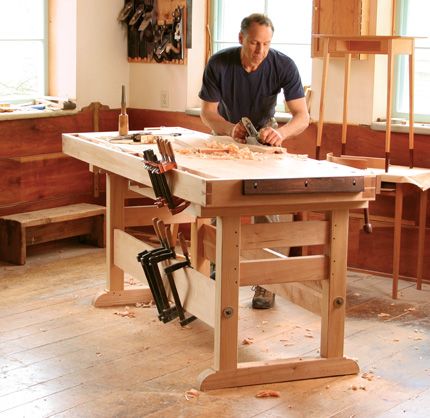 In the woodworking world, the new year often brings to mind thoughts of projects to come and dreams of palatial—or just plain quaint—workshops most of us can only lust for. As we get ready to say goodbye to 2011 and usher in 2012, I thought it might be nice to give some kudos to two of my favorite shops. So sit back, grab a cold one (or a warm one for that matter) and dream a little!
Down a Gravel Road
The one and only time (to date) I had the pleasure of poking around Garrett's Hack turned out to come on the eve of an auspicious ocassion. Last February I had trucked up to Thetford Center, Vermont to capture Garrett as he crafted an elegant side table dubbed the "Spinner Table" for a Video Workshop many of you may have seen earlier this year. Much to my dismay, my wife went into labor at 3am, the morning after our first day of shooting.
Nestled into a hillside that overlooks the rolling hills of northern New England, Garrett's shop is the kind of place you just want to spend all day in. Toss a few logs into the stove, crack open a thermos of strong coffee, and get building.
[[[PAGE]]]
Suburban Super Shop
Fine Woodworking's art director, Michael Pekovich, must have a wife who is either very patient or very kind. Actually, I think perhaps she's both. Mike was permitted to transform his two car garage into the perfect backyard workshop. With its clean white walls, bright plywood floors, and plenty of window and overhead light, it's a cheery place to bang boards together while listening to the chickens housed in the coop just outside its walls.
Sawmill Charm
Of course, what good is a workshop without wood? Fine Woodworking contributor Mario Rodriguez's visit to a a boutique lumber mill some years back is chock-full of old-time charm. In this video tour, sawmill owner Dave Spacht breaks out a few chunks of lumber that nearly cost him a $2,000 blade over the years. Perhaps most jaw dropping was the walnut chunk housing an old red brick within its bark. How on Earth?