"No Right Angles" at Liberty Labs Foundation
A Brooklyn-based communal studio highlights members in its first ever in-house exhibition.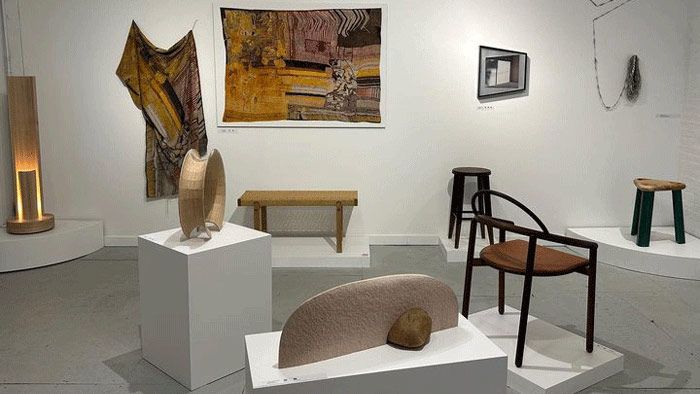 Liberty Labs Foundation is located in Liberty Warehouse in Brooklyn, N.Y. A large building that once held the Statue of Liberty, it is now home to a collection of studios and storefronts. Evan Yee, artist, co-founder of Liberty Labs, and curator of "No Right Angles" showcases the past and present members of the studio by assembling a body of work that highlights each member's unique perspective.
"There is truly 'No Right Angle' from which a person can approach making, no correct background that lends itself to the creative process, no amount of professionalism needed to approach experimentation," Yee says. "While every piece in this show is created with expertise, 'No Right Angles" demonstrates nothing can be done without approaching some sort of unknown."
Machine space.
A well-organized shop.
The studio currently holds 15 members, each with individual bench space, shared machine space, a designated area to showcase and photograph work, and a kitchen and dining area complete with fireplace. An impressively organized studio, it is bursting with inspiration, so it's no surprise that its members bring creative and uniquely crafted pieces to the show. Wandering around the studio brought a glimpse into each member's process and added to the experience.
Bowen Liu – Woo Candelabra. Walnut and Brass. bowenliustudio.com Instagram @bowenliustudio
Tom Breglia – One Month's Rent. White Oak, copper, and silver.  breglit.com Instagram @bregliatom
Reed Hansuld. Arm Chair No. 1.  Walnut and leather. reedfurnituredesign.com Instagram @reedfurniture
Evan Jewett. Paper Cord Bench. Quartersawn white oak and paper cord. evanjewett.com Instagram @evanjewett
John Billing. 11 Sided Bowl. Katsura Wood. bigsandwoodworking.com Instagram @big_sand_woodworking
Cofield studio. Echo Credenza. White Oak, blackened steel, and leather. studiocofield.com Instagram @studiocofield
Chris Cushingham. First light 001. Maple. cushdesignstudio.com Instagram @chriscush
. Find out more about the non-profit community studio at Liberty Labs Foundation.com.
| | |
| --- | --- |
| | Scraps of note: These big and beautiful offcuts can serve as a jumping-off point for very creative work. |
| | Philadelphia's Museum for Art in Wood highlights six artists reinventing an ancient architectural art form. |
| | Check out North Bennett St. School's summer exhibition, as well as new tools from Rockler, Woodcraft, Woodpeckers, and more. |