Ultimate One-Man Shop
A woodworker's new space is a year-round haven for his favorite hobby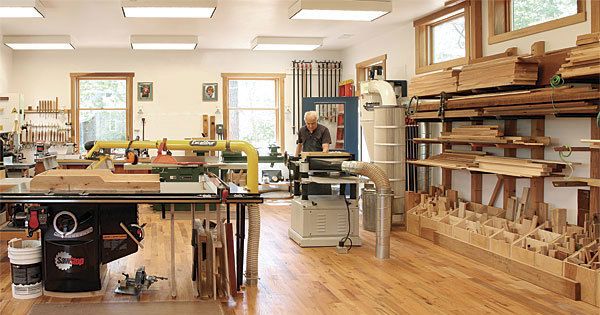 Synopsis: Philip Houck spent a year designing a shop that is easy to heat, with plenty of light and an open floor plan. Beefed-up framing, extra insulation, and an under-floor dust collection system helped him achieve that goal. Houck made the shop energy efficient, then located his benches and hand tools at one end of the shop, near the sink for easy access to water during sharpening. The carving bench is stationed by the window to take full advantage of natural light. He used 16-in.-wide plywood I-beams as ceiling joists to support the upper floor with no need for posts underneath. High windows on the north side make room for the wall-mounted lumber rack. Underneath, an array of upright boxes holds cutoffs of varying lengths.
---
For several decades, from the time I started as a woodworker until very recently, I did almost all of my work in underground shops. My first workspace was in the basement of my parents' home. I was 9, and I made toys and useful objects for my family.
As a newlywed, my shop consisted of a vise mounted to the end of a 2×8, which I clamped to a rude table that doubled as my desk. Over the years, the shops grew in size and equipment, but as a gardener and lover of the outdoors, I found that even a great basement shop could seem dismal on a beautiful day.
Every so often I tried open-air woodworking, setting up shop on my deck during the warm weather (I live near the ocean, in New England). That was better, but far from ideal. For one thing, I found myself constantly in need of yet another tool, and I spent much of the day traipsing up and down the cellar stairs.
A few years ago, when I finally had enough saved to build the shop of my dreams, I was able to stop being a seasonal, subterranean woodworker. I wanted a year-round shop: cozy in the flying snow but not claustrophobic when the azaleas bloom. I wanted plenty of light, room, and storage. For a year, I researched and mulled over the design, and then I spent the next seven years building and fitting it out. I think my approach could help some of you, even if you already have a shop and are just making upgrades.
Let there be heat: Ensuring that the shop was usable year-round meant making it affordable to heat through a New England winter. But I also wanted large windows—and plenty of them—to let in natural light and the view of the trees and two ponds.
To combat the cold, I supplemented the cellulose wall insulation with two layers of rigid foam and a 3⁄4-in. barrier of trapped air behind the drywall. The ceiling over the second floor has 16 in. of cellulose and the roof has another 8 in. of insulation between the rafters. The framing contractor thought I was going overboard, but he wasn't going to pay the heating bills. The extra care paid off: The propane used to heat the 960-sq.-ft. shop has averaged about $180 per winter.
From Fine Woodworking #223
For the full article, download the PDF below:
View PDF