Ultimate One-Man Shop
A woodworker's new space is a year-round haven for his favorite hobby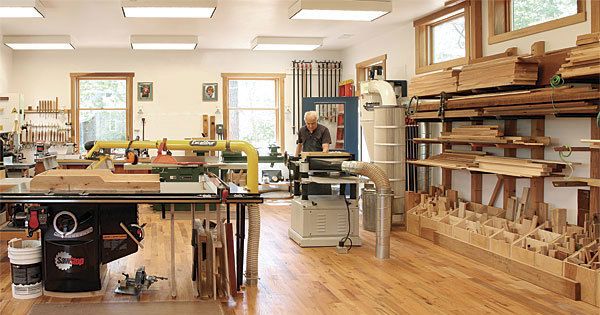 Synopsis: Philip Houck spent a year designing a shop that is easy to heat, with plenty of light and an open floor plan. Beefed-up framing, extra insulation, and an under-floor dust collection system helped him achieve that goal. Houck made the shop energy efficient, then located his benches and hand tools at one end of the shop, near the sink for easy access to water during sharpening. The carving bench is stationed by the window to take full advantage of natural light. He used 16-in.-wide plywood I-beams as ceiling joists to support the upper floor with no need for posts underneath. High windows on the north side make room for the wall-mounted lumber rack. Underneath, an array of upright boxes holds cutoffs of varying lengths.
From Fine Woodworking #223
For several decades, from the time I started as a woodworker until very recently, I did almost all of my work…
Start your 14-day FREE trial to continue reading this story.