SawStop inventor Steve Gass defends the latest table saw verdicts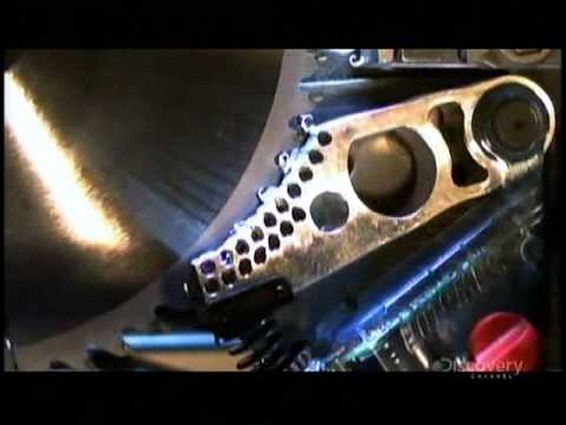 After reading the Consumer Product Safety Commission's new ANPR (advance notice of proposed rulemaking), and finding many errors and assumptions, I had a lot of questions for Steve Gass, the SawStop inventor whose testimony and data both the CPSC and the court in the Osorio case relied on heavily. As usual, Gass was very forthcoming and candid, and quick, which any reporter appreciates.
---
COMPLETE OSORIO COVERAGE
---
Here are the highlights of our e-mail exchanges, which I found to be very enlightening, but left me of course, with followup questions (here's one: I find that a riving knife lets me concentrate on just one thing, keeping my fingers out of harm's way. And I'm sure that is making me less likely to run my hand into the blade). I'll follow with those questions later, plus Q&As with representatives from the rest of the tablesaw industry.
This issue will dominate woodworking headlines for some time. Bear in mind that I sent many of my questions all at once, getting Gass's answers all at once later, so I didn't always have a chance to consider a previous answer before formulating my next question. Also, I moved Qs and As around a bit to make this exchange more readable and kill some redundancy.
By the way, the PTI is the Power Tool Institute, an association formed by most of the other tablesaw manufacturers, in response to the entry of SawStop into the marketplace.
Christiana (that's me): How does an ANPR work?
Gass: It is the first step in the process of the CPSC creating a rule. It basically says they are considering making a rule and asks for public input on various questions that bear on whether a rule is warranted or not. When the ANPR is published, interested parties are given 60 days to comment and provide input on the questions such as you raise below.
Christiana: Can you tell me more about your role in helping the CPSC do its research and come to the conclusion that a standard is needed?
Gass: CPSC certainly shouldn't just take my word for things – nor have they. They've considered the PTI's comments and submissions and the engineers at the CPSC have made their own evaluations. Furthermore, I'm not suggesting anybody just take my word for it. I have documented and backed up any statements I make. Will the PTI do the same?
I haven't had any role in helping to prepare the ANPR or helping the CPSC do its research. The only thing I have provided to them is copies of our finger save data from which they can evaluate the effectiveness of the SawStop technology in mitigating injury. The vast majority of what is in the briefing package comes from internal data at the CPSC – especially NEISS, their injury tracking data base. I know they have purchased one of our contractor saws and done their own tests on it, but I didn't participate in that in any way and don't know what tests they did or what results they generated.
If you're wondering why the CPSC is so interested, their own numbers tell it all: $2.36B in injury costs on a product having a retail market value of $300-400M. The piece SawStop brought to the table was that there was a solution that could in fact prevent these injuries. The CPSC contacted me when they heard about SawStop, not the other way around.
The CPSC started this process before I'd even invented SawStop. In fact they originally approached the industry in 1998 about trying to do something to make table saws safer. The industry's response was that current guards were the best option and customer education were the only possible solution. See attached documents. It was only after I came up with SawStop that the industry suddenly developed an interest in riving knives – not because they didn't know about them before, but because they wanted to have some improvement to offer the CPSC to fend off more stringent regulations.
I know it is kind of fashionable to suspect everyone is only in it for themselves. And, I guess many people will want to cynically believe that I'm somehow manipulating the system only to make a bunch of money. Well, the truth is I'm lucky that I don't have to choose between doing what I believe to be the right thing and doing what's in my financial interest. Like any other inventor, I hope to make money from my invention. I also hope to make all table saws safer. Fortunately, I don't think those two goals are at odds.
Christiana: I'm disappointed in the Osorio verdict, and in the CPSC's briefing package. I still haven't seen anyone prove you can put the SawStop technology into a portable jobsite saw without doubling its weight and price, more or less. The jury is also out on how the electronics would stand up to the elements and other abuse in the back of pickup trucks and on jobsites.
Gass: You are welcome to come out any time and see our prototype [that incorporates the SawStop technology into a jobsite saw]. It weighs about the same as a Bosch 4100, so weight is certainly not an issue. I believe the manufacturing cost will be less than $100 over that of the Bosch, as there just isn't much that you have to add to put SawStop on it. Even the PTI guys have testified that it would only cost $55 to add their version to a portable bench top saw.
Do you really believe that we or B&D or Bosch can't design the electronics sufficiently to withstand the environment? Many power tools already incorporate electronics of comparable complexity and they seem to hold up okay. Every drill has electronics in it. Or, how about the fence position digital display on the Bosch jobsite table saw? That has a microcontroller, just like what we incorporate. The suggestion that flesh detection technology is somehow unique in this regard is simply nonsense. Back when we started, the PTI was saying you couldn't seal the cartridge against dust either and low and behold, that turned out to not be a problem either.
As for the Osorio jury, I think we could argue about whether the law is wrong if you don't believe that manufacturers should have an obligation to make there products reasonably safe – reasonable generally being defined as being where the cost of making them any safer exceeds the economic saving from reduced injury. But, that is in essence the law. I sat through all of the testimony in the Osorio case and I can tell you the jury made the right decision given the evidence before them and the law that they were instructed to follow. Ryobi said they couldn't have incorporated safer technology and I testified that they could have based on my experience designing and building just such saws. But the jury didn't just believe me, they also believed Peter Domeny from Bosch when he testified that the PTI had developed a system they could put on bench top saws for $55. Either system would have prevented Osorio's injury from being devastating. So there were two relatively low cost possible solutions that could have prevented the injury and Ryobi used neither. How could the jury have reached any other conclusion but that the BTS15 was not reasonably safe?[[[PAGE]]]
Christiana: Riving knives stop kickback, which is the cause of most hand-to-blade contact as I understand the data, and riving knives have added next-to-nothing to the price of saws. Also, they work in any size and type of saw, and will do so after a rainstorm, etc.
Gass: Riving knives are a huge improvement and I think they are great. That is why we incorporated them in our saws long before the industry decided to incorporate them in the UL standard. But kickback is not responsible for the most hand to blade contact as you suggest. The CPSC data says is involved in 35.5% of blade contact table saw accidents. Our finger-save data shows an even lower number, but that is likely because our saws include riving knives, even if not all users choose to use them. And, even a riving knife will not prevent all types of kickback. For instance, I've seen numerous cases where material climbed the front of the blade and 'kicked-back' as it was grabbed by the front of the blade and pulled back down to the table.
Christiana: I think you guys have an amazing technology, which is proven to work on cabinet and contractor-type saws. And you've got riving knives to boot. That's why we have a SawStop machine in our shop. But not everyone can pay $1,000-plus for a tablesaw.
Gass: Obviously not everyone 5is going to spend $1000 or more on a table saw. But the question becomes can you put SawStop-like technology on smaller saws as well and what is the cost. As spelled out above, there is no reason this kind of technology can't be implemented on all saws from the smallest to the largest. I've tested it on $100 bench top saws and we are developing a large sliding table saw. We are also in the process of developing our own jobsite saw – which admittedly won't be at the cheapest end of the bench top category. Nonetheless, there is no engineering reason the same systems can't be implemented on small saws. As for cost, the PTI has testified to $55 and assuming that is a manufacturing cost, it is fairly close to my own estimate. So, I think in the event of a rule the lowest cost table saws will become $200 instead of $100, but that still isn't $1000. But don't you think you need to weigh that against the cost of the injuries that will otherwise occur? And that is in the $1000's of dollars, not $100s.
Christiana: Cost is always a factor when it comes to safety, though no one likes to admit it. We could put Nascar-style safety systems into cars and lower fatalities considerably, but we stopped at airbags and crumple zones. It's an ugly calculus, but it's a real one.
Gass: Of course cost is an issue. It has to be. The question I think real question is therefore how does the cost of the rule relate to the benefit? In this case, it's not even close. The cost of the injuries is estimated by the CPSC to be $2.36 billion per year. That is on a product with a retail market of $200-400 million per year. So imagine that putting something like SawStop one all saws doubled the cost – which it won't on average. The data we have from our finger saves demonstrates that SawStop virtually eliminates major injuries. We end up with 96% of accidents on SawStop saws requiring only a bandage for treatment. That probably represents a 95-99% reduction in the injury cost – meaning that we'd save about $2 billion per year by spending $200-400 million extra up front. So, when you look at the cost, as you must, you end up concluding that something should be done to eliminate these injuries.
Christiana: What do you think the CPSC will require that tablesaws do specifically?
They haven't written the standard, so we don't know for sure, but it will be something like what we suggested when we filed our petition – basically a person should not be cut more than 1/8th of an inch deep when contacting or approaching the blade at a speed of one foot per second. A manufacturer may achieve that by stopping the blade, retracting the blade, covering the blade, blocking the hand, or in some other way. This is a so-called performance standard, not a design standard as it doesn't say how you have to achieve the result, just that it must provide the specified degree of safety performance.
Christiana: When it comes to other manufacturers adopting your technology you quote a very low licensing fee, but that fee is only part of the equation. What about the cost of those other companies significantly redesigning their entire line of existing saws to accommodate the SawStop technology, and the cost of manufacturing the SawStop technology itself or buying the units from you?
Gass: Probably the best answer to this question comes from the PTI itself: "Our members estimate that just the cost of redesign, retooling, testing, and regulatory approvals will be between two and ten million dollars per company, based on the number of models each company will have to redesign." U.S. Consumer Product Safety Commission Petition CP 03-2, Petition for Performance Standards for Table Saws, Comment of Power Tool Institute, Inc., page 34.
The manufacturing cost of saws equipped with active safety technology will be about $50 more than without it. Peter Domeny, who represents the PTI and used to work for Bosch, testified in a trial that the cost of putting flesh-detection technology on a bench-top saw is $55. Osorio v. One World Technologies, Inc., 06-CV-10725 (D. Mass.) (March 1, 2010, trial transcript, day 6, page 161, lines 5-8).
And you can't look at those numbers in the abstract – you have to weigh them against the cost of injuries that will continue to occur if we do nothing. The CPSC has estimated $2.36 billion annual cost from table saw injuries. If you assume all 7 member companies in the PTI each had to spend $10 million, the total would represent less than two weeks worth of injuries. That is why I've often said that if table saw manufacturers had to pay for the injuries occuring on their products, something like SawStop would have been incorporated on every saw long, long ago.
Christiana: Those CPSC medical cost estimates are based on old technology, namely splitters. That's one of my main problems with their research and data, that they don't acknowledge the impact that riving knives will have.
Gass: You are correct that the injury statistics are based on years in which there were almost no PTI-style guards on the market yet. But you are not correct that the CPSC staff didn't consider them in the analysis. The staff acknowledge the improvement offered by the new guards in the briefing package – see pages 17-18 "The new modular blade guard system appears to be a significant improvement over most traditional guard systems because it uses a permanent, adjustable riving knife rather than a removable splitter, as the primary kickback prevention device and support for the guard." But they go on to say that they don't believe is an adequate solution to the overall problem because it doesn't address all or even the majority of injuries and nearly 1/3 of the injuries occur with a guard in place.
Christiana: If riving knives will tend to stay on saws much more than those old crappy splitters did, doesn't it follow that blade covers will too? My opinion is that they will, and that that will reduce hand-to-blade contact.
Gass: Not necessarily. One of the main reasons people remove the blade guard is because the guard gets in the way – physically and visually. And you can easily remove the new blade guard from the riving knife, so many people will take the blade guard off to see the cut. They may also take the blade guard off because it is sometimes easier to feed wood into the blade without the guard, especially when the blade is at an angle. But, on balance, I agree there is likely to be some increase in guard usage with the newer PTI-style guard systems.
Gass claims that his robust, sophisticated system will work on the smallest saws, and add less than $100 to their price tags.
Steve Gass (C) demonstrates SawStop's braking technology on a hotdog in a Discovery Channel documentary.
Steve Gass believes his amazing flesh-sensing, blade-braking technology should be mandated on all tablesaws. And the Consumer Product Safety Commision agrees.