Build a Tablesaw Sled for Precision Miters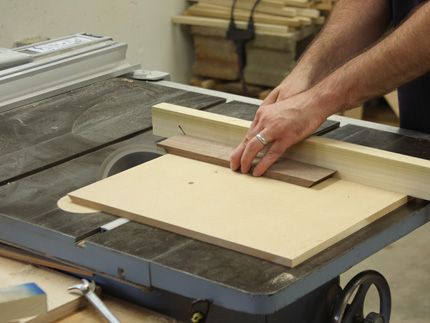 I use a sled to cut case miters, because its far easier to hold the workpiece in place as you push it past the blade when you use a sled (versus a miter gauge). Also, the sled can be set up for zero-clearance, which tells you exactly where the blade will cut and that means its easy to miter a box side or other workpiece precisely. Here is a quick-to-make miter sled that I use all the time (it tookabout 5 minutes to make this one). It's a snap to set the fence accurately. And it always cuts perfect case miters. Finally, the reason that there is a base on one side only is so that the offcut can fall to the saw table and not be trapped beneath the blade (a trapped workpiece can be thrown at you by the blade).
 
click to enlarge

Step 1:
Attach a miter bar to a piece of MDF (or plywood). As I mentioned in my post about crosscut sleds, I prefer commercial miter bars. Leave the side of the base that will pass along the blade long, so that first time you use it the blade will cut through the base.

 
click to enlarge

Step 2:
Trim the base. After tilting the blade to 45 degrees, turn on the saw and push the base past the blade. I do this so that there will be no base on the off cut side of the blade. Off cuts then drop to the table and don't get trapped beneath the blade.

 
click to enlarge

Step 3:
Square the fence to the mitered edge. Use a combination square to guarantee accuracy. Then, clamp down the end of the fence near the edge.

 
click to enlarge
Step 4:
Attach it with one screw. Put it near (but not too near) the mitered edge–about 1 in. from the edge is fine.
Step 5:
Resquare the fence. The first screw acts as a pivot and holds that end of the fence in place. Clamp the far end of the fence to the base.
Step 6:
Lock the fence square. First, drive a second screw at the end opposite the first one and then a few more between them so that fence doesn't bow during use.
Step 7:
Zero out the fence. Run the sled past the blade a second time to make a kerf in the fence. This shows you exactly where the blade cuts and makes it very simple to align a workpiece for dead accurate cuts.