Your First Guitar
Good kits make great guitars and offer plenty of real woodworking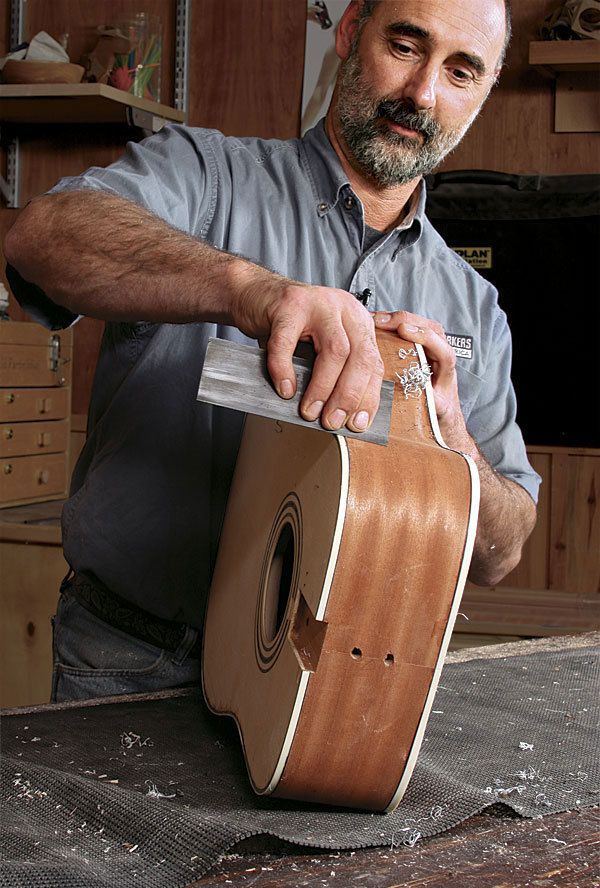 Synopsis: If you've never tried building a guitar, consider a kit. You'll get the challenge of building a beautiful instrument without needing specialized tools and equipment, because the sides are bent for you and all the components, materials, and instructions are included. You'll still have the challenge of setting the angle of the neck, locating and installing the bridge, and setting the inlaid binding around the top. In the process, you'll find out of guitar-making is for you. And, if you really love it, you might build your next guitar from scratch.
from Fine Woodworking #221
There are many functional and beautiful things that you can make as a woodworker, but perhaps none combines function and beauty as fully as an acoustic guitar.
The curved sides, inlaid top, and carefully fitted neck all pose satisfying challenges for the woodworker. And the finished piece is uniquely satisfying as well—as beautiful as fine furniture, but made to create music.
Still, many woodworkers who might otherwise try building a guitar are put off the project, thinking they'll need a host of specialized tools and new skills.
Enter the guitar kit. Several companies make kits that include all the components, materials, and instructions you need. The kits vary in their simplicity, but all of them remove some of the obstacles that might trip up the average woodworker.
In many kits, for example, the guitar's sides are already bent, so there's no need to create large bending forms or a hot-pipe bending rig.
Guitar players especially might wonder whether a kit-build can match the fit, finish, and sound of a professionally built guitar. Devotees of kit-built guitars swear by the tone and playability of their instruments, even their flawed first efforts. And the building experience, they say, is addictive.
There's more to building from a kit than just gluing together pre-made parts, as I found out when I visited guitar-making instructor George Vondriska at his school outside Minneapolis (aboutwildearth.com). A kit builder must carefully handle a wide range of tasks, including setting the angle of the guitar's neck, locating and installing the bridge, adjusting the nut to set the height of the strings, and setting the inlaid binding around the guitar's top.
Tackle these tasks with patience and care and, when you're done, you'll have a beautiful musical instrument. And you might find you like guitar-making so much that you are ready to build one from scratch. It's not a long leap once you have a kit under your belt. This article will give you a taste of the process and offer some pointers on where to learn more.
For the full article, download the PDF below:
View PDF