Peter Shepard Turns the Page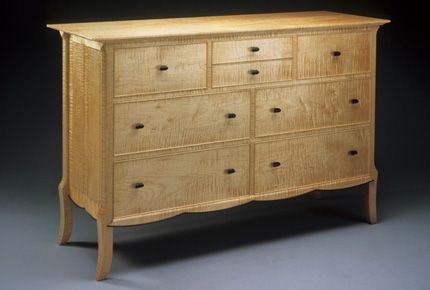 A Quick Switch from Wordsmithing to Woodworking
After he graduated from college, in the mid-1970s, Peter Shepard spent a decade-and-a-half in publishing. But as his 40th birthday approached, he decided to shift gears–and switch careers. When he quit his job as a book editor he wasn't sure what sort of work he'd be doing next.
He had no experience in woodworking, but furniture had always interested him, and he thought he might like to do something with his hands. He followed the hunch and began exploring the furniture field, visiting small shops in Boston and asking furniture makers about their profession. Then he took a short course in the fundamentals of woodworking at the North Bennet Street School.
In the 20 years since, Shepard has focused his energy on a dozen or so designs he's developed, building them repeatedly. In some cases he alters the original, adapting elements conceived for a tall bureau to the design of a lowboy or a nightstand, for instance. More often, he has remade the original piece with very little alteration to its appearance. Even so, he's always tinkering with the construction process, fine-tuning the jigs or joinery, machining or clamping setups to make building each piece as quick and efficient as possible.
This video, narrated by Shepard, presents an array of his superb designs.