CPSC Drafting New Table Saw Regulations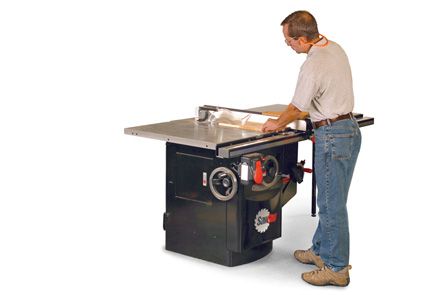 Here we go again. The long-simmering story on tablesaw flesh-sensing technology is heating up once more. The controversial tablesaw lawsuit that launched tool safety into the spotlight last year is right in the back of all our minds.
This week, news emerged that Consumer Products Safety Commission Chairwoman Inez Tenenbaum has directed her staff to draft a new tablesaw safety regulation package, which will be released for public comment in September. Does this mean we're one step closer to higher tool prices? Who knows? The fact of the matter is that opinions differ widely, regarding exactly how much SawStop-style technology (watch a demonstration of Sawstop technology) would add to the base price of a tablesaw. While SawStop inventor Steve Gass puts the cost at about $100 per unit, other industry insiders beg to differ. And quite frankly, they're not too keen on having to pay Gass and his crew for the licensing. Case in point: Bosch, which is trumpeting its own newly designed blade guards before the feds. According to Bosch representatives, their new breed of tablesaw blade guard is hands-down, infinitely better than the old school guards so many woodworkers habitually take off their saws the moment they assemble them.
Victims Come Forward
Federal regulators have long turned their ears towards tablesaw users who have suffered serious injury at the hands of a spinning blade but the debate rages on as to whether their injuries were the fault of the tool or that of negligence while using it. Adam Thull, a 30 year-old woodworker from Crosslake, Minn., was one of four victims who spoke out in favor of tough regulations back in May. Thull apparently reached over his saw's spinning blade to catch a piece of wood that was falling off the table and suffered devastating injuries. While sympathetic to his plight, critics point out that the injury was of his own making.
An X-ray showing tablesaw injuries to Adam Thull's arm.
Who Stands to Profit?
Of course, the outcome of all this potential regulation really rests with SawStop. As the inventor of a technology with a healthy amount of patent protections, Steve Gass might just be the linchpin of this entire "battle." We've said it before here at Fine Woodworking and I'll say it again: Steve Gass didn't mean to go into the tablesaw-building business. All along, his goals lay in the engineering of an ingenious technology that could be licensed to other manufacturers. Trouble was, nobody bit–for a variety of reasons. It seems as though Gass' holding out might just be leading up to one massive pay-day.
CPSC Drafting New Tablesaw Regulations
Catch National Public Radio's June 15, 2011 story on the potential for new regulations.