Porter-Cable - Porter-Cable- QuikJig 560
Porter-Cable's QuickJig works for any thickness material you need to drill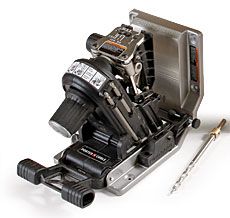 I build a lot of cabinets, and I often use pocket holes for the face frames and toe kicks because the joints are plenty strong and are quick and simple to make. Now Porter-Cable has made the job even easier with the QuikJig.
The first thing I noticed was the tool's mass, which adds stability to this benchtop tool. But the jig's simple setup and convenient features make it a real winner.
First, installing the stop collar on the drill bit is easy to do using an onboard jig. What's more, the setup works for any thickness material you need to drill (from 1/2 in. to 11/2 in. thick). Screw spacing is simple to adjust (from 3/4 in. to 13/8 in. oncenter) using an easy-to-grip knob on the side.
| | | |
| --- | --- | --- |
| | | |
| Set it, and forget it. | Dial in the hole positions. | One-shot clamping. |
| Once you install the stop collar on the bit using the onboard jig, you won't have to do it again. | Set the hole spacing by rotating the large knob on top of the jig. | The rotating clamp handle both locks the stock and automatically sets the drilling depth. |
The clamping mechanisms are very strong and held narrow 3/4-in.-wide stock in place without shifting. An adjustable stop keeps the workpiece aligned and makes easy work of repeat cuts in material of the same width and thickness. If you are drilling stock that's wider than the jig, you need to unthread the stop completely and slide it out of the way, a cumbersome process; I'd prefer some sort of quick release. Aside from that detail, this beautifully engineered jig is a snap to set up, and after that, lightning fast to use. The jig has a removable dust port, which helped prevent chips from building up and interfering with the job.
Drill, baby, drill.
Drilling goes very quickly, and a handy scale on the side tells you the screw length you need for your setup.
Drilling pocket holes in a long piece held vertically can be awkward, but the QuikJig takes care of that, too. You can simply flip down the jig and support the workpiece with a standard 2×4.
Long board? No problem.
If a piece is too unwieldy to drill vertically, flip the jig down and put a 2×4 under the workpiece for support.
Although the price tag on the QuikJig may turn away casual pocket joinery users, those who rely on pocket screws will value all that it has to offer.