Platform Takes Guesswork Out of Compound-Angle Holes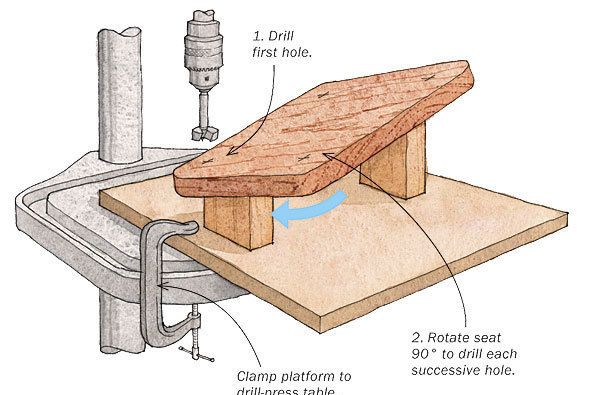 Getting ready to build a stool recently, I was having trouble figuring out a way to drill the compound-angle holes in the seat for the legs. Thinking about the process, I spied my compound-miter saw, and it hit me: I could use the saw to make a platform that holds the seat at the correct angle for drilling.
Consult your plans to calculate the two angles for the holes (for this stool, the angles are the same). Set the miter to match the front-to-back angle and the bevel for the side-to-side angle. Trim both ends of a short 2×4 at the compound angle. Return the saw to its 90° settings and then cut off one end of the beveled 2×4 about 2 in. long. Attach this cutoff along one edge of an MDF base with double-faced tape. By the way, the compound angle also can be cut using a miter gauge on the tablesaw.
For the second support, temporarily place the seat flat on the first block and measure how long the second block needs to be to support the other side of the seat. (A larger seat may require more supports.) The measurement just needs to be close, as you can change the position of this block to get an exact fit. Now cut the second block and attach it to the base with another piece of double-faced tape. Finally, mark the hole locations on the seat and attach the seat to the blocks—top side up—with more tape.
Using a Forstner bit, drill the first hole on the low end of the platform. Take light cuts and clear chips frequently, especially when you're about to break through. Once the first hole is done, simply rotate the seat 90° to cut the remaining holes. Be aware that on seats where the two parts of the compound angle are not equal, you'll only be able to drill two diagonally opposite holes, then flip the blocks over and re-attach them to drill the last pair of holes.

Jim Richey