Turn Your Garage Into a Real Workshop
Make it comfortable and you'll spend more time there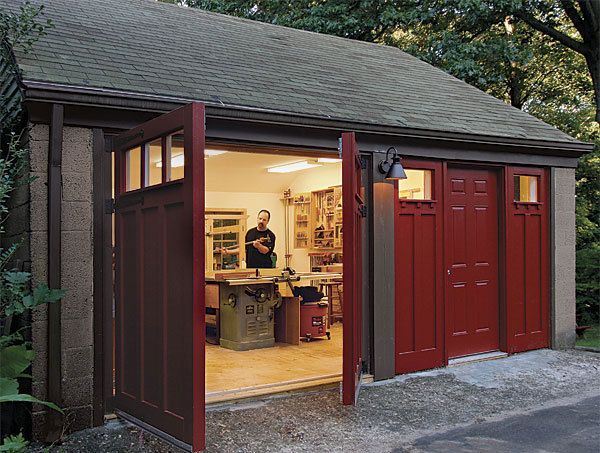 Synopsis: Michael Pekovich set out to turn a dark, damp, cold garage into a warm, four-season workspace. With its drafty doors and concrete floor, Pekovich's uninsulated shop was limited to warm-weather woodworking. Even in the summer, the low ceiling, dark walls, and minimal lighting made the space feel cramped and dreary. But by adding insulation, improving the lighting, and replacing the garage doors with shopmade carriage doors, the space is transformed into a comfortable, year-round workspace.
I set up shop in the two-car garage of my Connecticut house when I started at Fine Woodworking 13 years ago. Coming from California, I wondered why so many folks in this area chose to work in their cramped basements rather than their spacious garages.
But when November came around, I understood. The propane heater I had installed was no match for the uninsulated roof and walls, cold concrete floor, and leaky garage doors. After emptying a 60-gal. propane tank in less than a month, my shop quickly became a threeseason workplace and its floor space was increasingly devoted to bikes, camping gear, and chicken feed.
With access to the Fine Woodworking shop at work, I asked myself if I even needed a home shop, but after sharing the shop for years and watching rust develop on my woodworking machines at home, I finally decided I really needed my own heated workspace. This meant insulating the floors, walls, and ceiling, hanging and finishing drywall, and installing new doors. I also bought a manufactured shed to house all of the nonwoodworking items that had been slowly encroaching on my workspace.
I'm a woodworker, not a carpenter, so a lot of the tasks on this project were new to me. Fortunately, with the folks at Fine Homebuilding just down the hall, I had access to decades of collective building knowledge. Admittedly, some of the building solutions I came up with might not be realistic on a typical building site where speed and efficiency dictate how to accomplish every task, but they made sense to me as a woodworker on a very tight budget. I hope they make sense to you, too.
Two garage doors—two different approaches
It was easy to see I was losing many of my heating dollars through the gaps in the garage doors. Weatherstripping and insulation kits are available for doors in good repair, but my old rotting doors had to go. The question was how to replace them. I thought about a set of steel insulated doors, but I didn't like the idea of hoisting open a roll-up door in the middle of winter and letting the cold air rush in.
Instead, I decided to replace one of the overhead doors with a normal walk-out door. This would provide easy entry and create a few extra feet of much-needed wall space. I did this by framing in a pair of narrow panels that would flank an inexpensive, prehung steel entry door.
 Take a guided video tour of Michael's dream shop.
From Fine Woodworking #216
For the full article, download the PDF below:
View PDF