Cutting-Edge First Aid
ER doctor: Throw away your old kit and forget what you've been told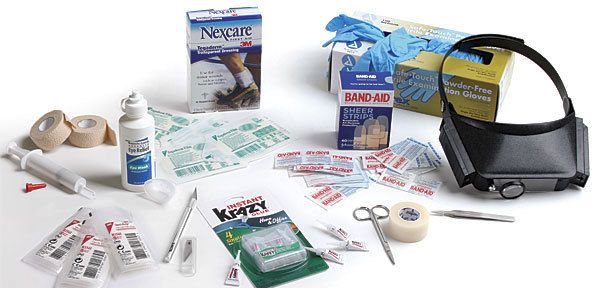 Synopsis: Forget those pre-assembled first-aid kits you find in drug stores. Forget what you've previously been told about treating injuries. This guide will help you address the specific problems of first aid faced by woodworkers and show you how to assemble a kit that will truly be a lifesaver in the shop. Woodworker and physician Patrick Sullivan knows all about common shop injuries and how they should be treated. Here, he tells you about specialized equipment and supplies that work well in the shop, and demonstrates a few tricks on treating wounds, from stopping bleeding to cleaning wounds to bandages.
Woodworkers spend a lifetime handling razor-sharp tools, power equipment with exposed blades, and boards that harbor splinters and fasteners. In this environment, there's always the risk of an injury.
Usually woodworkers cut their fingers, and occasionally the palms of their hands. Although the hand often will recover from minor injuries even if it receives no care at all, recovery is faster with less scarring and less risk of infection if it's treated properly. For more serious cuts and eye injuries, however, what you do first can have an impact on the rest of your life.
As a woodworker and physician, I understand the types of injuries that are common in the shop, and I know how they should be treated. Forget the first-aid kits offered in drug stores. Forget much of the misguided advice found in popular manuals. The woodworking environment is unique, and I'll tell you about some specialized equipment and supplies that work well there. I'll also show you a few tricks on treating wounds—from stopping bleeding to cleaning to bandaging—based on proven medical principles. In the end, you'll learn how to treat injuries in a way that gets you back to work as soon as possible.
How to handle most cuts
1 SOAP AND WATER
The enemy of healing is infection. The germs that live on lumber and tools generally do not cause disease; essentially, all the risk is from bacteria you already carry on your skin. A wound allows those skin germs to reach the more vulnerable tissue beneath the skin. The problem gets worse if there is dirt, sawdust, debris, or dead tissue in the wound.
The most effective treatment for all wounds is immediate washing with soap and clean water. (You can skip this if you need to go to the emergency room, because they will clean it there). Washing drastically reduces the number of germs, and takes away dirt and debris in which bacteria can hide and multiply.
I have seen several Internet pictures and videos that show first-aid techniques in which they advocate wiping the wound clean with a damp paper towel or gauze pad. This is the most ineffective way to wash a wound.
From Fine Woodworking #216
For the full article, download the PDF below:
View PDF