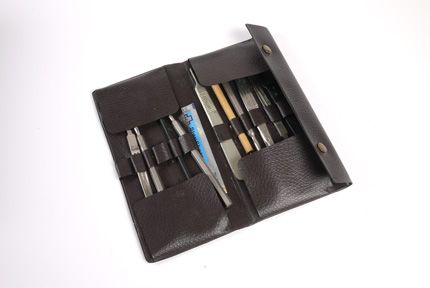 I love tools. I have always loved tools. I will continue to love tools until I draw my last breath. One of the symptoms of that affliction is the pleasure I get out of repurposing devices meant to serve other purposes. Case in point: I've been working on a rather detailed humidor project for the past few months and recently hit a snag.
The Patient
The humidor is built primarily of mahogany, chosen for its stability and the fact that at the time I began the project, I was out of Spanish cedar thick enough to form the basic box. The box will eventually be lined with some thinly-milled Spanish cedar I brought back from Pinar del Rio (that's Cuba's tobacco country) and a lid lift made from iron I recovered from an 18th century cannon situated within the old Spanish fortress that guards the entrance to the Bay of Havana (I picked up some of the oxidized chunks that have fallen off the canons over the years). Pretty cool, huh!? Anyhow, the mahogany was covered in rosewood veneer and that's where I hit the snag.
The Problem
I used a vacuum bag to apply my veneer and acheived a flawless glue-job on all the veneered faces, except for one: the lid. Something happened with my vacuum while gluing up the top and I lost pressure overnight. This resulted in a lid which was, for-the-most-part, perfectly glued save for two spots where the rosewood puckered up due to poor contact.
The Solution

I needed to find a way to get glue in beneath the rosewood in those two spots but was terrified of possibly undoing all my hardwork via a poor repair job. The solution I found was my mother's old dissection kit, recovered from the depths of a dusty box in my parents' basement. The kit contains a variety of interesting tools, including scalpels, needle-type probe devices, and spatulas, all of which are perfect for cutting a small slice into the veneer bubbles and manipulating the thin wood in such a way that I can squeeze in just a bit of glue before clamping (with some custom cauls). This kit worked out great and I'm wondering if anyone else out there has had luck with repurposing odd tools and devices for the workshop. If you have, let me know. I'd love to hear!
More on Veneer

• Tuning and Using a Veneer Saw


•

How Veneer is Made


• How to Veneer a Sunburst

This old dissection kit makes for a great veneer repair kit.
Inside, there's all manner of scalpels, tweezers and other manipulation devices. Great tools for delicate veneer!
The patient in question is this humidor of rosewood, wenge, and spanish cedar I milled and brought back from Cuba. My vacuum bag had some pressure issues which resulted in two small bubbles in the top surface. Time to go in for a repair.